Friends, I have a treat for you! Chelsea from Sunny with a Chance of Sprinkles is with us today. You may have seen Chelsea hanging out in the sidebar as a sponsor, but today she's sharing a fabulous kid-friendly craft for you to enjoy with your littles, Vegetable and Fruit Stamping. It's too cute for words! Anywho, be sure to stop by her corner of the world wide web and say hello — she has a lovely blog that is sure to brighten your day.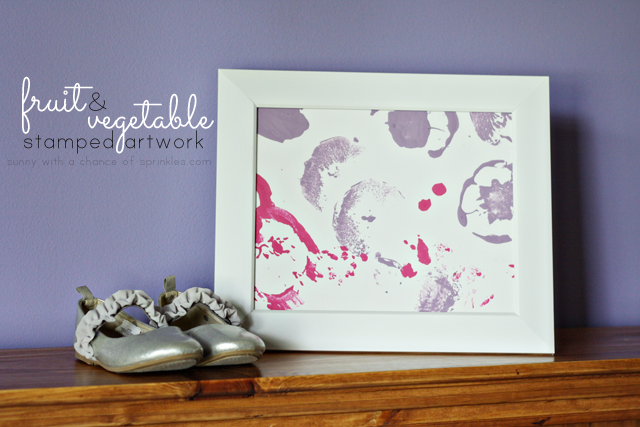 Hello beautiful Live Laugh Rowe readers, my name's Chelsea and I blog over at Sunny with a Chance of Sprinkles. I started my blog just a little over two years ago on a whim. My friend started a blog and told me she thought I should start one as well. Apparently I don't take a whole lot of convincing, because before I knew it I had a Blogger account and Sunny with a Chance of Sprinkles was born on a rainy, but sunny day in May. Some people think that my name is a cheerful spoof on the book Cloudy with a Chance of Meatballs, but it was truly named after the sunny day full of sprinkles that my blog was created on!
I blog about a lot of things over at Sunny with a Chance of Sprinkles, but I think my favorite thing to blog about is the activities that Alea and I do together. My little three-year-old daughter loves to craft. I'm not the biggest crafter in the world, but if paint, markers and getting messy makes my little girl happy, then I'm happy too! So the DIYs and crafts you see on my blog consist mainly of toddler and kid friendly crafts and activities and I'm very excited to share one of our recent favorites with you today.
Vegetable and Fruit Stamping Tutorial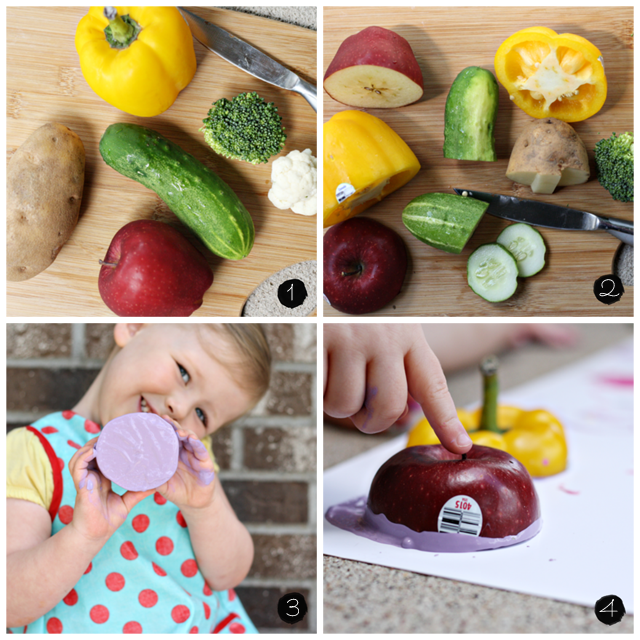 One | Pick out Fruits + Vegetables
Try and pick fruits and veggies that have different shapes or textures when cut in half.
This will add some fun and some variety to your stamps!
We used cucumbers, apples, peppers, broccoli, cauliflower, and a potato.
Two | Cut up Fruits + Vegetables
Cut the fruits and veggies in half.
Keep in mind that the stems on apples and peppers make wonderful 'handles'.
You can cut out shapes in the potato to make the stamps even more fun.
Three | Dip 'Stamps' in Paint
This is the fun part!
Alea chose two colors that would go best in her bedroom, pink and purple.
Keep in mind where you might hang this picture.
If you choose the right colors, it could become beautiful framed artwork in your home!
Four | Stamp Away
Stamp all over the paper, making sure to cover the entire surface. (We used poster board).
Now let your little one go to town + stamp like crazy!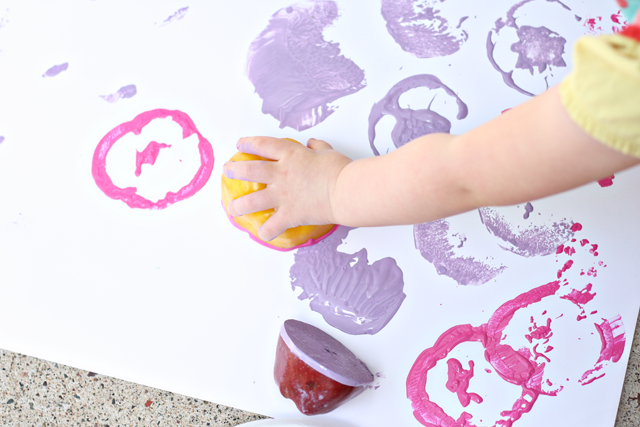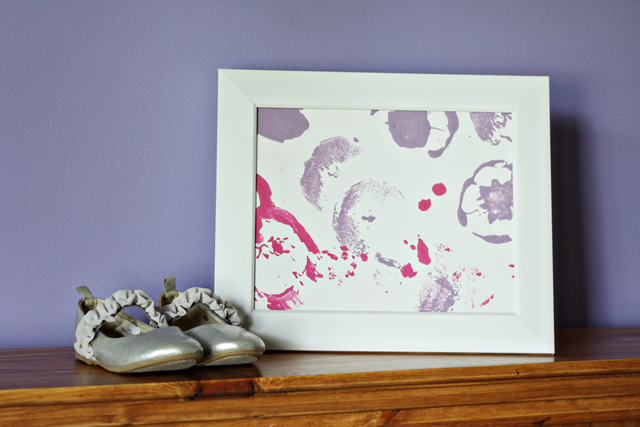 I hope you and your littles enjoy this little craft or if you don't have little ones, there's no harm in trying it for yourself! The best part about this project is it's really easy to personalize and make your own. You can use all kinds of colors, fruits, and vegetables to make it perfect for your space. Alea was very excited about hanging her own personal artwork in her new big girl bedroom, but this would also make a great housewarming gift or a gift for grandparents. Looking for another fun gift idea? Maybe try this painted flower pot craft with your little one, too?
Thank you so much for taking the time to read and thank you to Kelly for having me. I hope to see you over at Sunny with a Chance of Sprinkles very soon!
Thanks so much for visiting with us, Chelsea!
What a fabulous kid-friendly craft. Love it!
Subscribe to Updates | Like on Facebook | Follow on Pinterest