So today there are no projects or recipes, just a little post from the heart. Would you believe behind this little blog sits a gal who is high strung, tends to let stress affect her physically and over-analyzes everything a little to much? Yep, that's me. I kind of suck at stress management.
First, let me say that my shoulder surgery back in February really slowed me down — it forced me to stop and smell the roses (per say). Honestly, that was a blessing in disguise. I needed it. I was feeling overwhelmed, stressed and worried 95% of the time. I was working day and night.
As you can imagine, taking things easy felt sooooo good. Who knew? Therefore, I think I've already started down the path of making the weight of my stress a little lighter. It's a journey…. my motto has been: play more, work less. Being my own boss allows me that flexibility.
Recently my sister shared a slideshow from Facebook that really hit home. It was a wonderful reminder about how holding on to things (worries, stress, etc) can actually paralyze us in so many ways. Years ago, I lived at the chiropractors due to stress. Allowing 'things' to immobilize us is scary, but very real.
Today, I hope you're as inspired as I was. We live in a stressful society with innumerable responsibilities weighing us down. Sometimes we need a little nudge to remind us to keep things in perspective. Enjoy!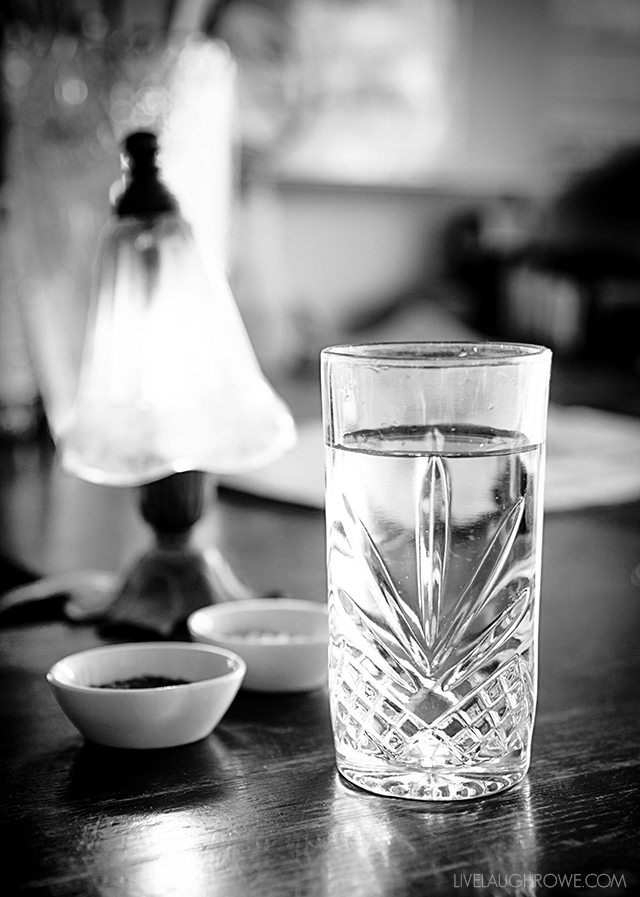 The stress and worries in life
are like that glass of water…
A psychologist taught a lesson on stress management to an audience. As she raised a glass of water, everyone expected to be asked the "half empty or half full" question. Instead, with a smile on her face, she inquired: "How heavy is this glass of water?"
Answers called out ranged from 8 ounces to 20 ounces.
She replied: "The absolute weight doesn't matter. It depends on how long I hold it. If I hold it for a minute, it's not a problem. If I hold it for an hour, I'll have an ache in my arm. If I hold it for a day, my arm will feel numb and paralyzed. In each case, the weight of the glass doesn't change, but the longer I hold it, the heavier it becomes."
She continued, "The stress and worries in life are like that glass of water. Think about them for a while and nothing happens. Think about them a bit longer and they begin to hurt. And if you think about them all day, you will feel paralyzed — incapable of doing anything."
So, remember to put the glass down.
Isn't that a wonderful illustration of how things can weigh us down? How do you cope with stress management? I hope you're encouraged to put 'the glass' down, friends!
Cast all your anxiety on him
because he cares for you.
I Peter 5:7 (NIV)

Be sure to visit with me here too:
Facebook | Instagram | Pinterest | Twitter |Google+