How do you define happiness? I'm sure we could all find different ways to describe (in our own words) what happiness is. It's defined as "feeling or showing pleasure or contentment" in the dictionary.
I created this printable months ago, but was unsure how to use it in a post. I think it's a powerful statement if you really think about it. Sometimes it's easier to give into the overwhelming feelings of sadness, anxiety, stress or, maybe, even loneliness.
Today I thought I'd share a little piece of me. A dark time in my life, where finding this form of courage was very difficult. It was an extremely lonely time for me. Have you ever felt alone? That you had no one to sit down and pour your heart and soul out to? That's where I was somewhere around 2001-2002. I think it's wonderful that I can't even remember the exact time — let's me know that I've put it behind me.
"Don't let your past
define your future."
After graduating from Central Bible College with a BA in Communications and doing my internship, I headed back to New Jersey. I worked at a start up internet company for awhile, then did some other odds and ends jobs during this period of transition. Nothing seemed to be that perfect fit. I was presented an opportunity to work as an Assistant Director at a summer camp. I thought, "YES!" This position was a pivotal part of finding a piece of me.
It was safe to say that I loved the role of leader/manager – it actually came quite naturally. I was organized, had managerial qualities and could delegate. I wasn't afraid of confrontation. So, after the summer came to an end, I decided to start applying for Children's Ministry positions. I loved the kids and the fun. The planning, preparing and leadership of a role like this would come with this type of position, so I started putting my feelers out and sending off my resume.
The Call.
A call came. Actually a few calls came and interviews were held ;however, this was a life changing call.
A mid-sized church in Kansas. I won't disclose the church or city for privacy purposes. They flew me out and I felt the interview process went fairly well. To be perfectly honest with you, I don't think I ever had a PERFECT peace. However, I didn't want to be living at home. I felt like it was time to move on and embrace some healthy transition/change in my life.
Taking the position meant it was time for a road trip with just my Dad and I. A looooong road trip! Since housing had not been figured out, I decided to stay with a family in the church. I rented out the basement and kept most of my stuff in storage. Ideal situation? Nope. But when I look back, I think there might have been a reason why a home was never bought or a lease was never signed.
Settling in and Loneliness.
I started settling into my position. I absolutely loved the kids. On the other hand, I began to realize that I was filling some big shoes. Prior to my hiring, a couple had pastored the children's ministry . I remembered thinking, "how can one person do the work of two?" I recruited help, attempted building some relationships – with a lot of push back. The parents were skeptical. How can a single woman know how to relate to these children? I struggled connecting with the families in the church. I even struggled fitting in with the singles that were my age in the church.
This soon became one of the loneliest times of my life. My sister was living in Springfield, MO at the time. I remembered calling her and begging her to come visit me on weekends. I watched a lot of Shirley Temple movies, walked to clear my head, and shopped hoping to fill that loneliness. When I wasn't doing that, I worked, worked and worked some more.
I think I started to withdrawal a bit. I felt unaccepted, unappreciated, and verbally/emotionally abused by the pastor. Did I choose happiness? I did the best that I could. The friends I thought I had ended up betraying me and before long, my future was freed up.
Losing my Job.
Every single thing about that experience seemed wrong. Feeling unaccepted by the church! I was let go (with severance) AND threats!?! To say that I understand what happened and why is impossible. It was devastating. Yet I believed that the Lord had ordained each and every step. And yet I was too stubborn to quit. Quitting is not in my blood and that job may have very well killed me if I had stayed.
I could've left that experience and let it scar me for life. Trust me, I still battle with forgiveness as I happen to cross paths with congregational members or people who were in the church at the time. I believe every single thing happens for a reason. Maybe I needed to experience loneliness to speak into the lives of those battling with loneliness, or maybe I had to learn that when life hands you a bowl of lemons – make lemonade and embrace happiness. Either way, I would never wish this experience on a single soul.
Embrace Happiness.

But let me tell you — I wasn't about to let my past predict my future. I moved on to bigger and better things. Although I don't work full time anymore, my career peeked when I found a comfortable place in upper management as a Director of Admissions in higher education. I had come to a place in my life where I had to let go and let God be God. He knew exactly what my future had in store and thankfully, I courageously pressed on and embraced happiness.
I am blessed beyond measure. I am happier than I've ever been. During some of my darkest hours, I chose happiness — and I hope that this will inspire you to do the same. Maybe you are going through a difficult time in your journey and you feel alone. First and foremost, you're NOT! We are all fighting a different battle, but I hope that you can find the courage to choose happiness and press on. I'm going to say a prayer for you today. Whoever you are, whatever your circumstance — I pray a perfect peace that passes all understanding will embrace you. You are loved!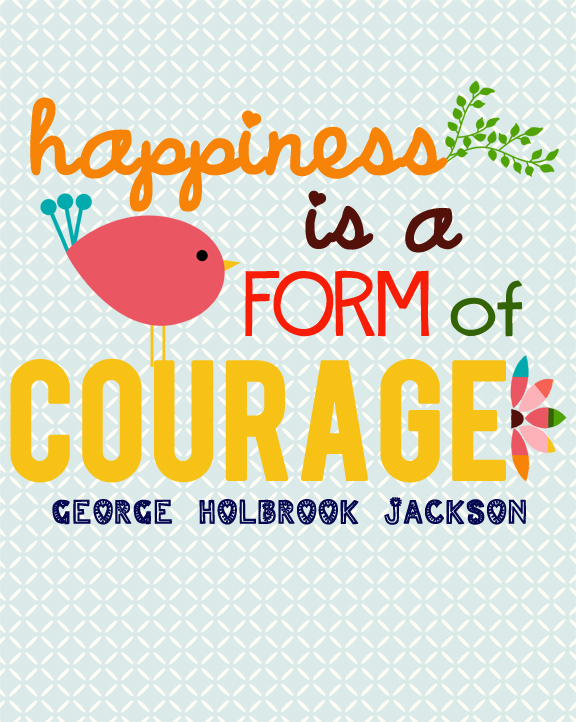 *Please Note: All printables and downloads designed by Live Laugh Rowe are for PERSONAL USE ONLY. Please do not alter the file or claim it as your own. This file is not intended for resale, nor are the printed versions of this file.

Be sure to visit with me here too:
Facebook | Instagram | Pinterest | Twitter | Google+