Happy Hump Day, friends! We're half way to Friday!
Remember my SMASH-ing Idea post?
I chatted about using a FUJI Instax Mini and a
SMASH book to scrapbook while on vacation?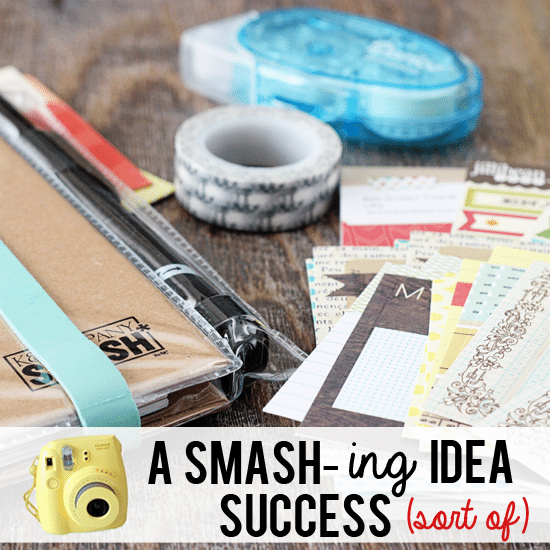 Well, today I thought I would share a follow-up post with you!
It was a HUGE success — sort of. (hee-hee)
Okay, so let me explain. There was a bit of an accident….
Everything was going FABULOUS. I was snapping pictures and tucking
them away to do my SMASH book. When we ported in Bermuda,
we were off to Horseshoe Bay for a day in the sun.
THEN IT HAPPENED.
I dropped the camera in the ocean.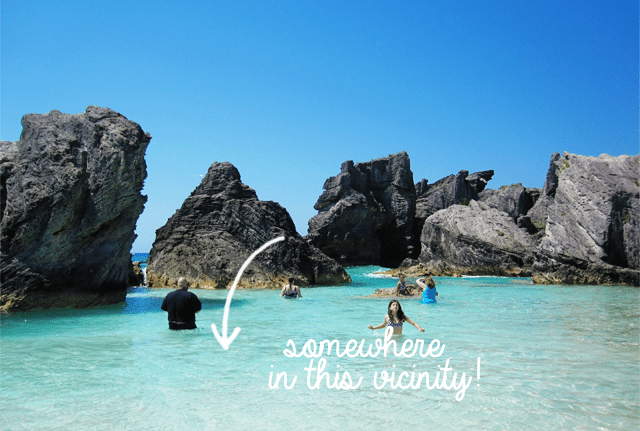 I was juggling way too many devices, friends…
I had my iPhone, my point and shoot and the polaroid.
I guess if something was going to fall, I'm glad it was the polaroid.
My mom tried to jump in a for a rescue and we attempted to dry the
camera out, but it was a gonner. Nothing. Caput. De Nada.
My mom gave me kudos on how calm I was.
Standing in the gorgeous waters of Bermuda,
a $70 camera was the least of my worries!
I was incredibly grateful that it wasn't my iPhone.
Soooo, the next best thing was the iPhone and Instagram pics.
We all started snapping away and did some SMASH-ing on the boat;
however, some of the scrapbooking had to wait due to not having pictures.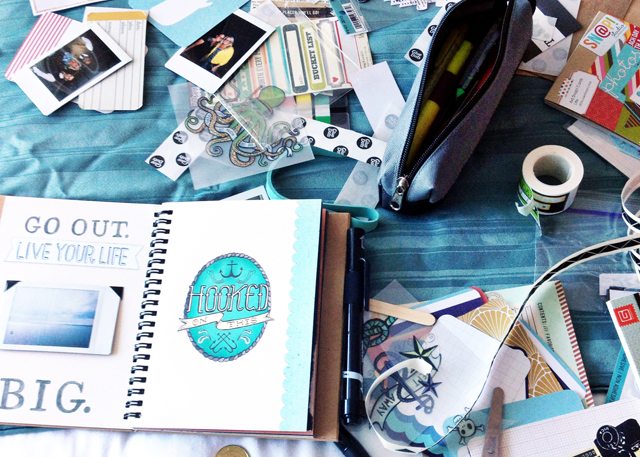 I'm tickled silly to say that the book was done before returning to St. Louis,
the camera was AWESOME until I had a blonde moment and we
captured some great memories! YAY! I thought I'd share a peek
into my book as well, so here are just a few of my SMASH book spreads: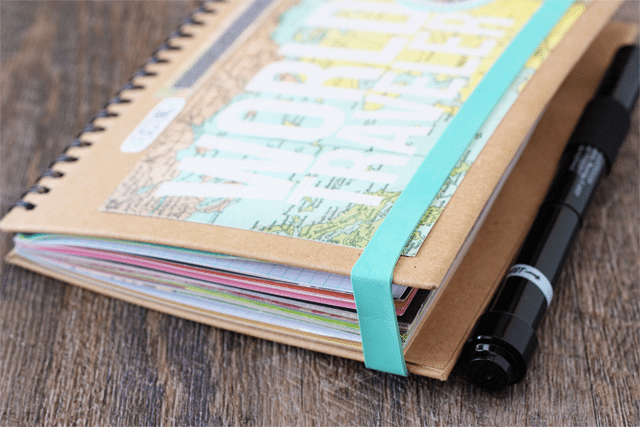 I embellished the front with some travel related embellishments!
Over course all the goodness caused it to bulge,
but the SMASH book band is perfect to keep it shut.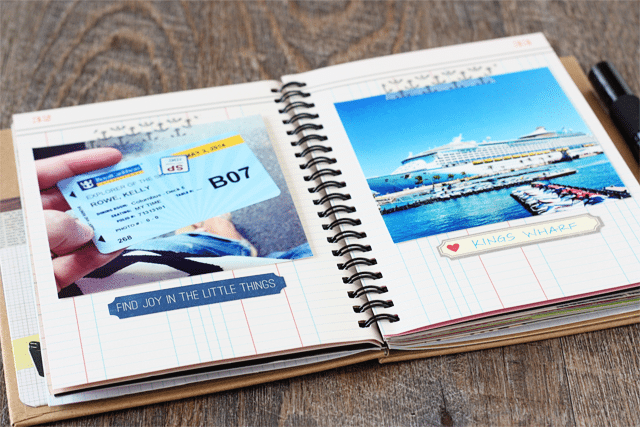 Soooo, above you can see the size of the Instagram pics I printed at Walgreens (4×4).
Below you can see a couple of the polaroids I captured too. I love-love-love the polaroids.
They have a vintage flair of sorts and you have to admit — they're fun!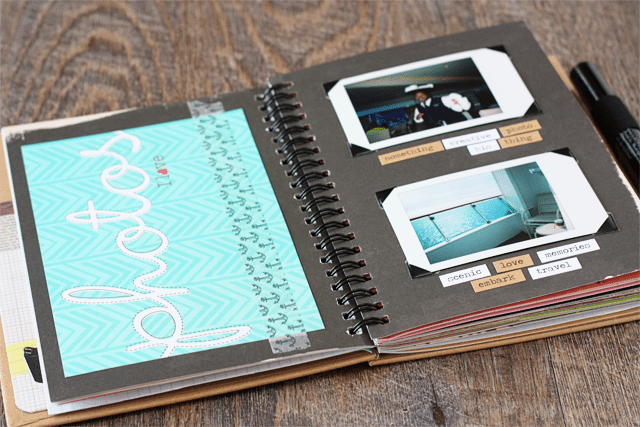 Loved capturing a few of my faves, moments I don't want to forget.
Room service, the view from our balcony and my roomies!
The words stickers by Tim Holtz were fabulous to use for captions.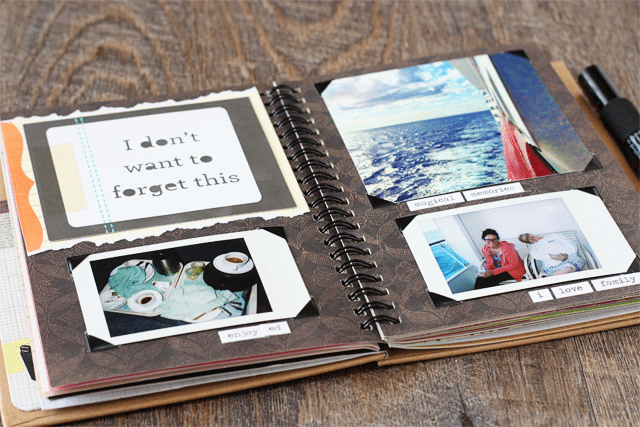 I used a pocket to shove some of my receipts in and other little
reminders/tokens that would take me on a walk down memory lane!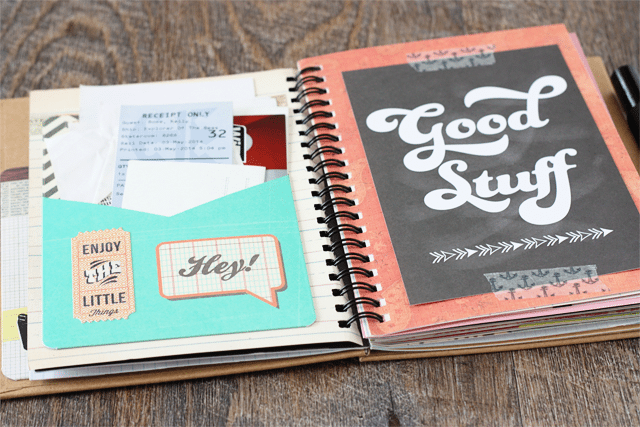 We created a couple of collages on our iphones as well.
If you create a collage with four pictures using an app,
you can cut the pics to be 2×2. (see below) Perfection!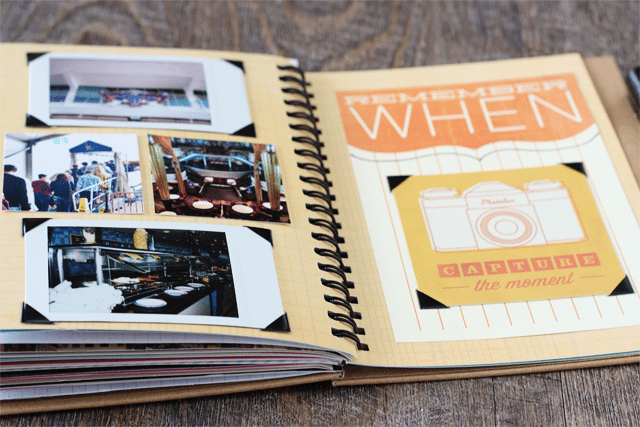 Washi tape and layers… oh my!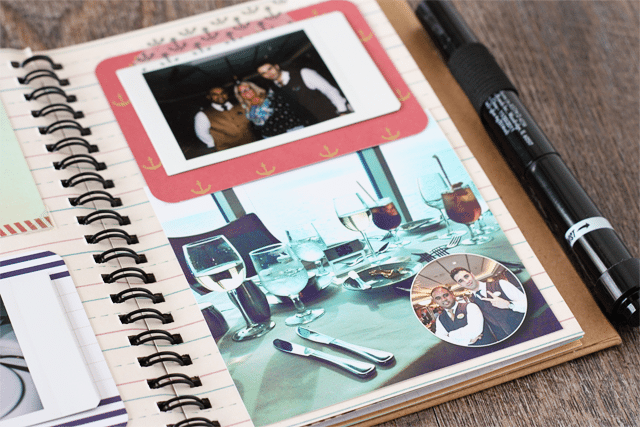 and… THE END!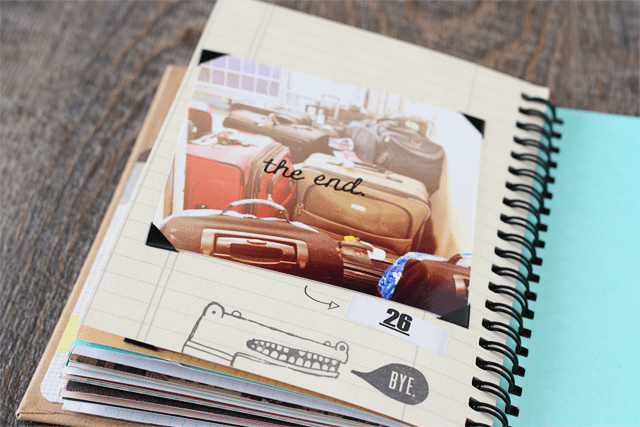 So, as you can see… the original plan went a little south; however,
the SMASH book was still completed and a blast!
Stay tuned! There are more cruise pics + stories to come!
Care to stay in the loop? I'd love to have you!
Catch me snapping + sharing pictures over on Instagram.
Subscribe to Updates | Like on Facebook | Follow on Pinterest