How many of you enjoy easy and versatile Christmas Crafts? ME! I love todays sweet project, as it can be used to add little charm to a gift or be used in you holiday decor.
With the Bowdabra®, there's the fold bow, the fold and twist bow and among my favorites, the scrunchy bow! Let's do some Christmas crafting, shall we?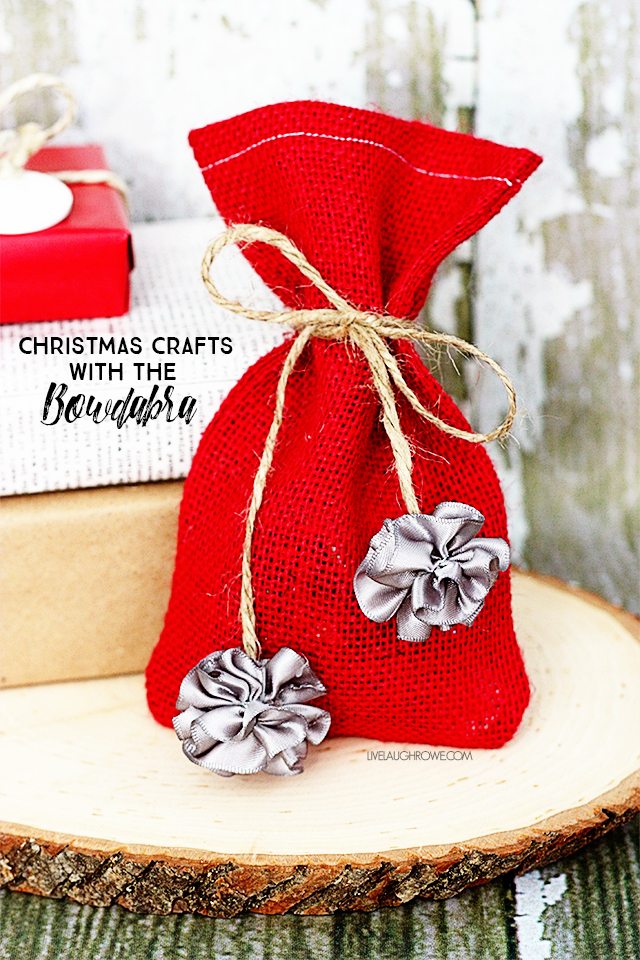 I recently partnered with Bowdabra and was provided with both the Mini and the Regular sized Bowdabra tools to do a little crafting goodness with. I was so excited! Sometimes bows can be the death of me… when you want your bow to look 'purdy' and, well, it looks a little on the lame side — what do you do? I used to ask my sister for help. She learned some great tips on making bows after working in a floral department years ago. However, I don't have to ask for help any more! The Bowdabra is pretty fabulous, helping you to create the perfect bow for wreaths, packages, and more!
While it is a handy bowmaker (and craft tool), I didn't want to share a traditional boring bow tutorial. So, I started to play with the Bowdabra and found the mini scrunchy bow to be among my favorites. It's different (and when using the double face satin, adorable). So, I got super excited and started to pull together some Mini Scrunchy Bow Christmas Crafts to share with all of you today. Ho-Ho-Ho!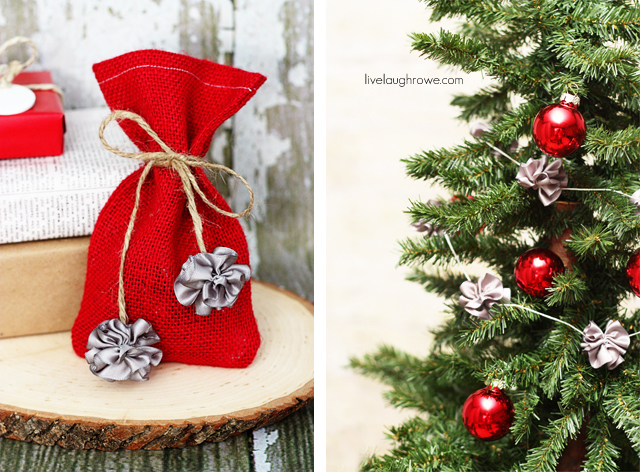 So, let's start by taking a look at how I put the mini scrunchy bow together. In six easy steps, we'll create these super cute scrunchy bows that will be the perfect addition to your holiday decorating, crafting and gift giving fun!
Supplies for Scrunchy Bows:
Mini Bowdabra
1.5″ Ribbon
Bowdabra Wire (I used silver)
Scissors
Supplies for crafting with them:
Embroidery Needle
Embroidery Thread
Plastic Yarn Needle
Twine
Step One. Place a 8-10″ piece of Bowdabra wired in the long way into the Mini Bowdabra. This piece will be used to tie off our scrunchy bow at the end.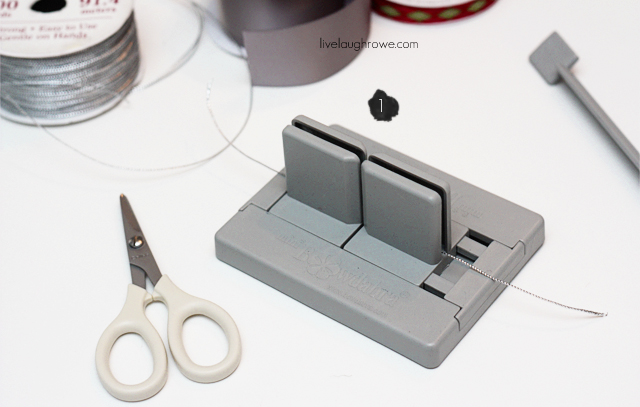 Now we're really ready to get this party started! Chose a wide ribbon of choice and we'll move on to our next few steps.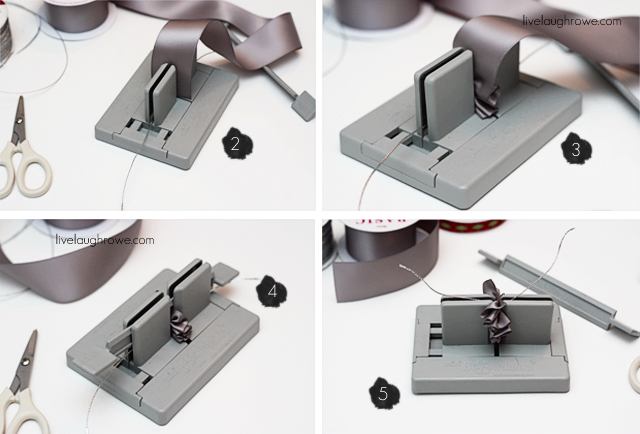 Step Two. Slide your ribbon into the Bowdabara from the top. (Side note: I took a lighter/flicker to the the end of my ribbon before starting to prevent fraying. Yes, I'm a little anal like that. Hee-hee).
Step Three. Pile the ribbon like an accordian into the divider. Scrunch as much ribbon in as you'd like to reach your desired size of your scrunchy bow. With the size ribbon I used, I didn't go overboard.
Step Four. Scrunch down the ribbon with the wand that accompanies your Mini Bowdabra.
Step Five. While the ribbon is still in the Bowdabra, take the ends of the wire and bring it up to tie it off.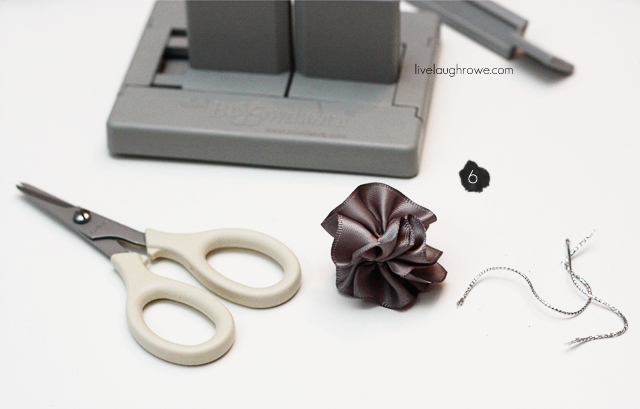 Step Six. Cut off any excess wire and fluff/shape the scrunchy bow to create the desired appearance you had in mind.
And that's it for making these adorable little scrunchy bows. Now, using a needle and embroidery thread, I strung some garland that would compliment some red ornaments! Scrunchy Bow Garland. I love it!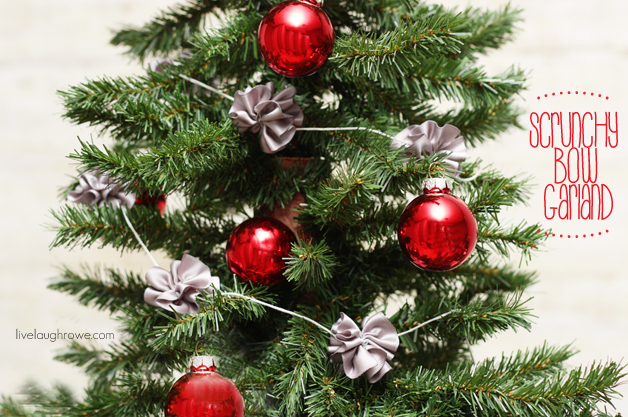 I also thought about using them on either end of some twine to tie my burlap bags closed for some gift giving this year! For this, I used a yarn needle to thread the twine through each scrunchy bow and tied it off with a know, that will tuck into the bow quite nicely.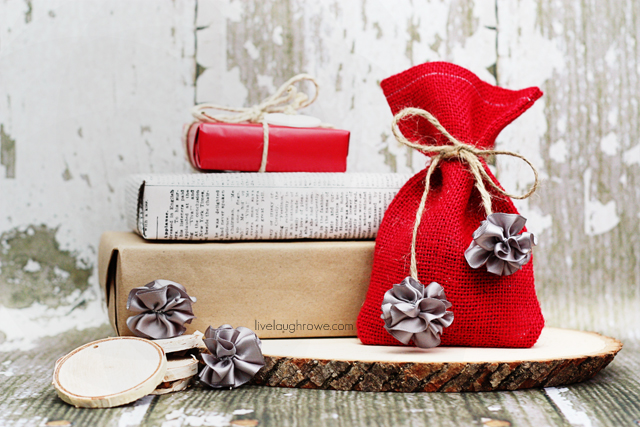 I love how the gray satin adds a touch of elegance to the rustic burlap and twine! It kind of looks like the ends of a knit hat too. What do you think? I think the scrunchy bows might look pretty fabulous scattered out on a buffet or tablescape too. What scrunchy bow Christmas crafts will you come up with?
Where can you find these magical wonders? I thought you'd never ask! You can find them at most craft retailers, such as Jo-Ann Fabric and Craft Stores, Michaels, and AC Moore. They can also be found on Amazon!

Be sure to visit with me here too:
Facebook | Instagram | Pinterest | Twitter | Google+
This post is sponsored by Bowdabra. All opinions are my own.