Recently I was asked by Hometalk to join them and Michaels
in hosting a local in-store Pinterest party! Isn't that exciting?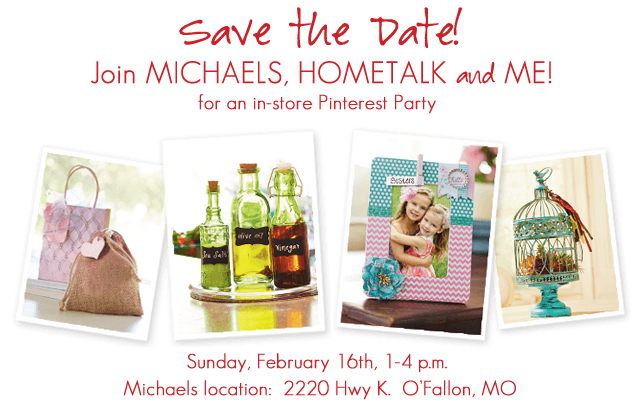 Join Hometalk and Michaels for a Pinterest Party on February 16th, 1pm – 4pm at your local Michaels store. So, even if you don't live local, these parties are being held at ALL Michaels stores; however, local bloggers will be at these select locations. Check out the Pinterest inspired displays at your local Michaels store, buy your supplies, and meet us in the classroom to create your own pin-worthy project. Tell me that doesn't sound like fun? Be sure to check out their weekly ads for sales and coupons too (US and Canada). I've already purchased a few goodies for my project and will be sharing my Pinterest inspired project with all of you within the next week.
Here's some even more exciting news! If you join Hometalk, you could win a Michaels gift card! Follow Michaels on Hometalk to enter to win a $100 Michaels gift card. Five winners will be announced on Hometalk's Facebook page on February 17th, after the party. Woo-Hoo!!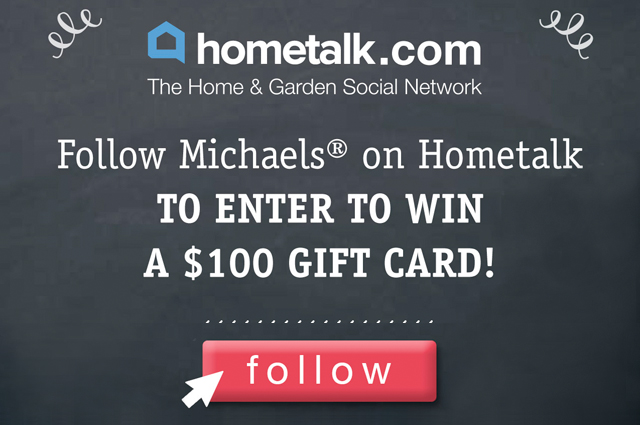 Are you asking yourself, "What is this Hometalk?" I thought you'd never ask! Hometalk is the largest home and garden social network on the web. It's fueled by the firsthand experience & advice of hundreds of thousands of home enthusiasts and professionals. You can ask questions, be inspires, share your own projects and so much more! It's a fabulous resource. You can find me over on Hometalk too!
We're so excited about this event, we're even hosting a Twitter Chat (with Hometalk & Michaels) on Monday, February 10 at 9 p.m. EST. We'd love to have you join us… stay tuned for more info!
Subscribe to Updates | Like on Facebook | Follow on Pinterest