This post is sponsored by The Home Depot. See full disclosure below regarding DIH Workshop.*
It's time for another #DIHWorkshop project? This months is focused on fall and I couldn't be more excited! Plus, I asked four of my blog buddies to join the fun, so you'll be getting all kinds of fabulous inspiration! How about we build this Rustic Pumpkin with Mason Jars?
DIY Rustic Pumpkin with Jars

It's a perfect addition to your fall decor and would be great to use while entertaining. Here's a detailed list of the supplies you'll need.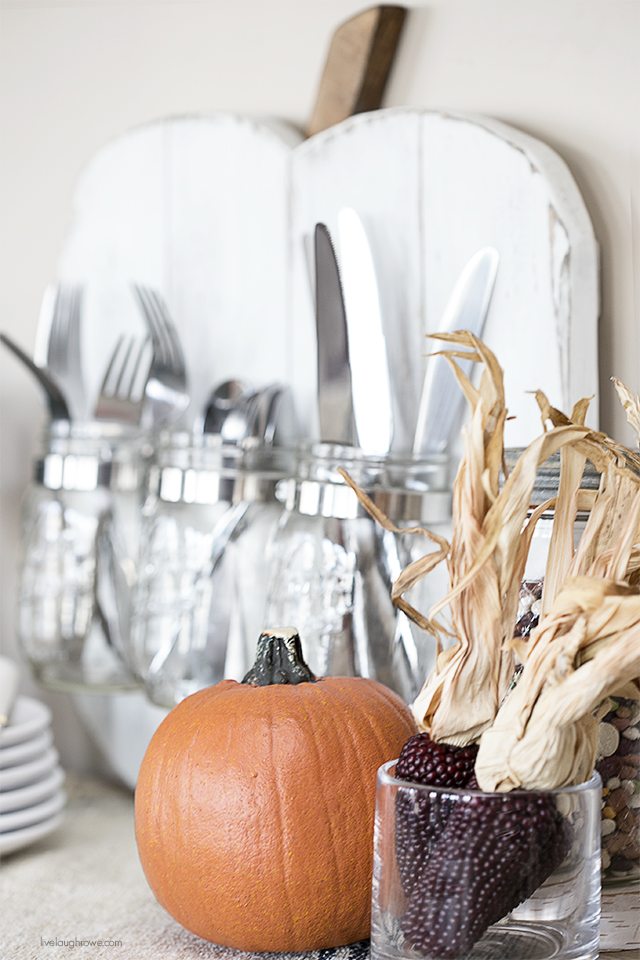 Materials:
2 – 1×4 common boards
1 – 1 x 2 x 4 feet long
1″ staples
Wood Glue
Tools:
Measuring Tape
Circular Saw (or miter saw)
Jig Saw
Staple Gun
Pencil
Let's do this…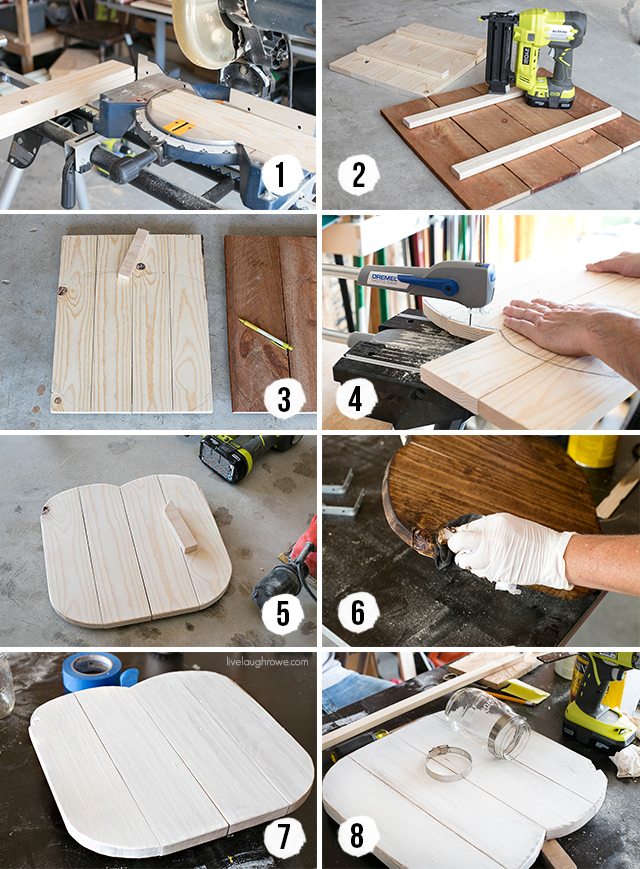 STEP ONE: Cut all your boards.
Cut four 18″ long pieces of wood from the 1 x 4 and two 20″ long pieces from the 1 x 2. I used a scrap piece of wood from other projects; however, cut one 8″ long piece from your 1×2 as well if you don't have scrap wood on hand. So, you're making SEVEN cuts total.
*Note that you can use any size wood and cut your pieces to any length, there is a great deal of flexibility with this project.
STEP TWO: Attaching boards for Pumpkin.
Lay the four 18″ pieces on your work surface (for me, that it my garage floor). The overall width is approximately 14″. Place 13″ long 1x2s on top, with about 1-1/2″ gap on either end. Use wood glue and staple gun to secure the 1x2s to the four pieces that will create the body of your pumpkin.
Flip your project over and add additional staples for extra security.
STEP THREE: Sketch your Pumpkin.
Sketch your a pumpkin shape on the front of your boards. Avoid drawing where your supports are. Have fun with the shape and remember that pumpkins aren't usually perfect in form — so make it as fun and unique as possible. For mine, I went for the tall and slender.
STEP FOUR: Cut your Pumpkin Shape and Sand.
Use jigs saw or tool of preference to cut out your full pumpkin shape. I used my Dremel Moto Saw, it worked perfectly. I also cut my stem so it wasn't so square (see image #5).
Once my pumpkin shape and stem were cut out, I sanded any rough edges with my sander.
STEP FIVE: Attach Stem.
Place stem in center of pumpkin and attach with glue and staple gun.
STEP SIX and SEVEN: Stain and Paint.
I decided to start by staining my pumpkin with Minwax Provinicial Stain. I let that dry overnight, then applied a couple coats of white paint. The final touch was sanding it a bit using a sanding block so the stain would peek through.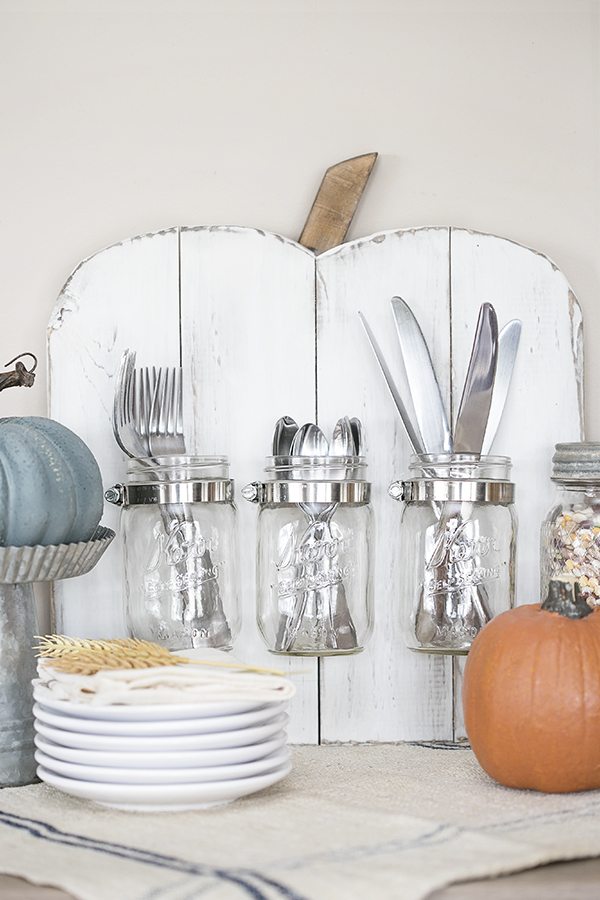 STEP EIGHT: Attach Mason Jars.
I decided on three mason jars and attached them using hose clamps. Most people attach the hose clamps to their surfaces by drilling through the metal. I'm not sure why, but I happened to have THREE fence nails that worked perfectly. Random, I know….
That's it — now you can add fresh flowers, use for silverware while doing some holiday entertaining, etc.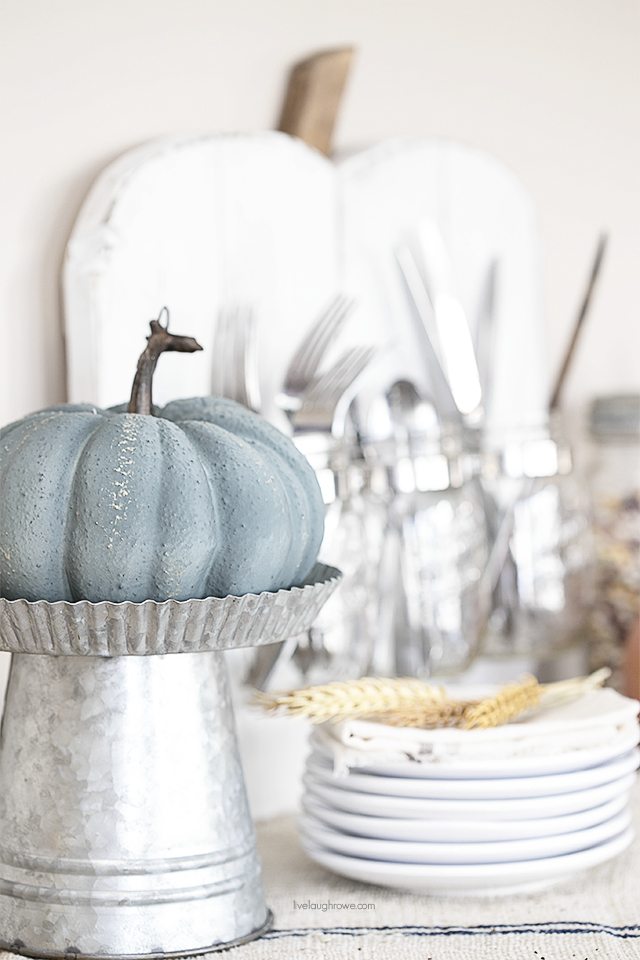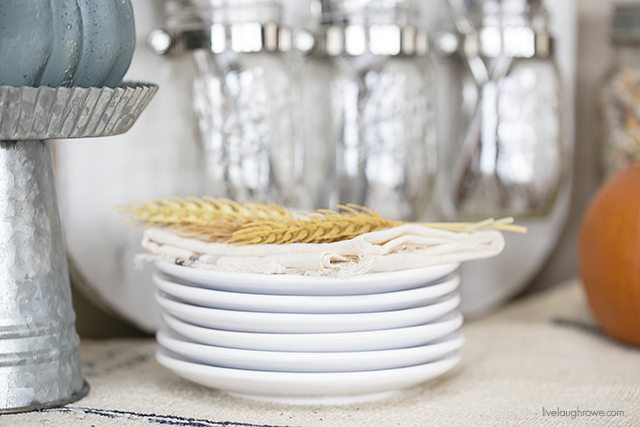 Guess what?? I have four other versions of the Rustic Pumpkin to share with you. YAY!


Thistlewood Farms | Anderson and Grant | Ella Claire | Little Glass Jar
So much inspiration, right? What do you say? Ready to make your very own Rustic Pumpkin Stand?

Be sure to visit with me here too:
Facebook | Instagram | Pinterest | Twitter |Google+
Linking up to Between Naps on the Porch
*The Home Depot partners with bloggers such as me for DIH Workshop program. As part of this program, I received compensation for my time. They did not tell me what to purchase or what to say about any product mentioned in these posts. The Home Depot believes that consumers and bloggers are to form their own opinions and share them in their own words. The Home Depot's policies align with WOMMA Ethics Code, FTC guidelines and social media engagement recommendations.