RedPosie, a local and delightful shop. I happened to stumble upon this quaint shop on Facebook. I stopped in and visited with Mike and Laura and gladly agreed to share one of St. Charles best kept secrets with all of you. Let's meet the owners, Mike and Laura. Laura has graciously done some Q&A for us.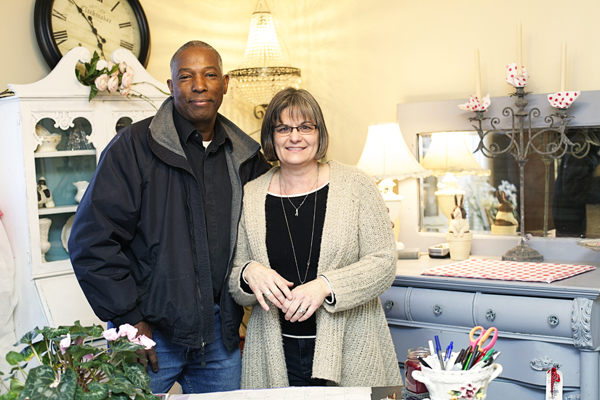 I'm a friend to the earth, and all of it's beauty and am trying hard to be a good steward by working through RedPosie to re-purpose the things that could end up in the landfill. Keeping the earth beautiful and unpolluted by doing small bits i.e.… florescent bulbs, turning off electronics, recycling, composting, and reusing. (I drive my family crazy)! I live with my husband Mike who is the IT in the house and now my unpaid webmaster. I'm the mother of three daughters who are all grown and out of the house on their own.
When did the RedPosie open?
Jan 4, 2013. RedPosie started right from my own front porch about 2 years ago. From the porch RedPosie took a small room in a vintage Co-Op in St. Charles, Missouri and on Jan 4th this year moved to the current location in St. Charles, MO.
What inspired you to open the store?
I wish I could give you a glamorous reason why I started RedPosie, but truth be told, I was like many others who found themselves without a job with the downturn in the economy. While I had many months of job searching, I also had a lot of time to keep up with my hobby of re-purposing furniture and decorating and redecorating and re-redecorating the house. After receiving many compliments on my work and even selling a few pieces of furniture off my front porch, it was like a light suddenly turned on and I thought, "This is what makes me happy. This should be my job!"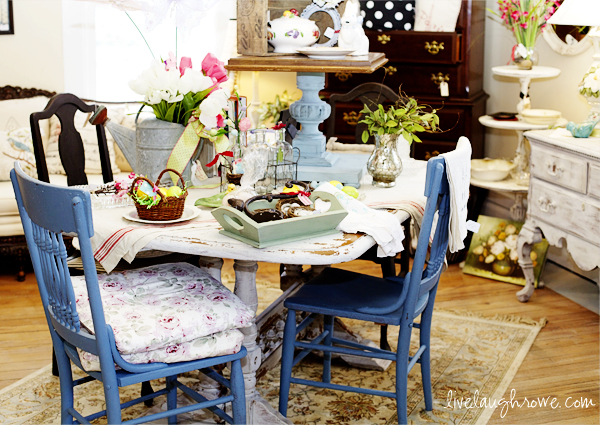 How do you choose items for your store?
By following one simple rule, "Will it look good in my home?"
Tell us a little bit about the paint products you sell and why you chose them?
RedPosie stocks two lines of paints, Miss Mustard Seed Milk Paint & Maison Blanche Chalk Paint.
The Miss Mustard Seed Milk Paint was my first choice. I chose it because I wanted a paint that would be suited for anyone who wants to create a natural-aged, chippy, and distressed appearance. It comes in a variety of amazing colors and the best part of offering MMSM paint to my customers is that there are no harsh chemicals in this paint. It comes in powder form that only needs to be mixed with water, is all natural (NO VOC's), and is safe to paint on virtually everything in your house.
RedPosie also decided to stock Maison Blanche paint, a chalk based paint that is the perfect paint for newbies as well as veteran DIY(ers). You don't have to strip, prime, sand or do all those time consuming prep steps to your furniture before painting it. Just pop the lid and start painting. Like MMSM paint, the Maison Blanche paint is also made from natural ingredients and has no harmful additives.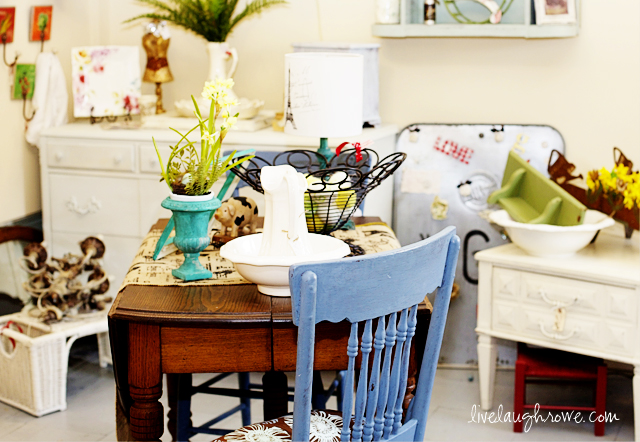 Tell us a little bit more about your Thursday night paint class.
This free of charge class is offered every Thursday at 5pm with room for up to 6 students. All we ask is that you bring your own small item to paint and we will take care of the rest. People who attend the class really learn the basics of using milk paint; mixing the milk paint powder with water for correct thickness before applying and using waxes and hemp oil to create different looks. Milk Paint is not for everyone, but by attending the class you get the opportunity to try it before buying it. The unexpected benefit from the RedPosie milk paint class people get is a time to relax, make new friends and find a new way though milk paint to "creating life beautiful with everyday things". If you are interested in signing up for the class, there is a sign-up page on RedPosie.

Be sure to visit with me here too:
Facebook | Instagram | Pinterest | Twitter | Google+