The farmhouse style is all the rage right now. I have to admit that it's a favorite of mine as well. I'm also a list girl, quite frankly, without them I would be completely lost. So, I merged these two loves of mine and created these farmhouse inspired printable grocery list and simple to do list to use around the home.
Farmhouse Inspired Printable Grocery List


Are you a list person? I don't need anything fancy, simple to do lists, grocery lists and lots of post-its seem to do the trick for me. I may have a few notebooks full of lists too. Hmmm, maybe I'm more of a hot mess than I think I am. Ha!
Nevertheless, I make lots of lists and 95% (ish) of everything on those lists get done or filed away for future use. While my work is focused on the computer and social media, behind the scenes I'm all about the pen and paper. Maybe that categorizes me as old fashioned, but that is a-okay with me. I don't think I'll ever grow tired of using my favorite pilot pen and all those crazy, addictive cute notebooks from Target (wink).
Can I get an amen? Are you with me? Well, if so, then we might just be paper and pen BFFs. And today's post is not going to disappoint. Woo to the hoo! I hope this printable grocery list and simple to do list will come in handy on an occasion or two. Psst… I think 20-25 sheets in a bulldog clip would make a sweet and simple gift too!
Without further adieu, I give you these farmhouse inspired (and oh so cute) FREE list printables. Each printable has three lists, sized at 3×7. Simply download, print and cut!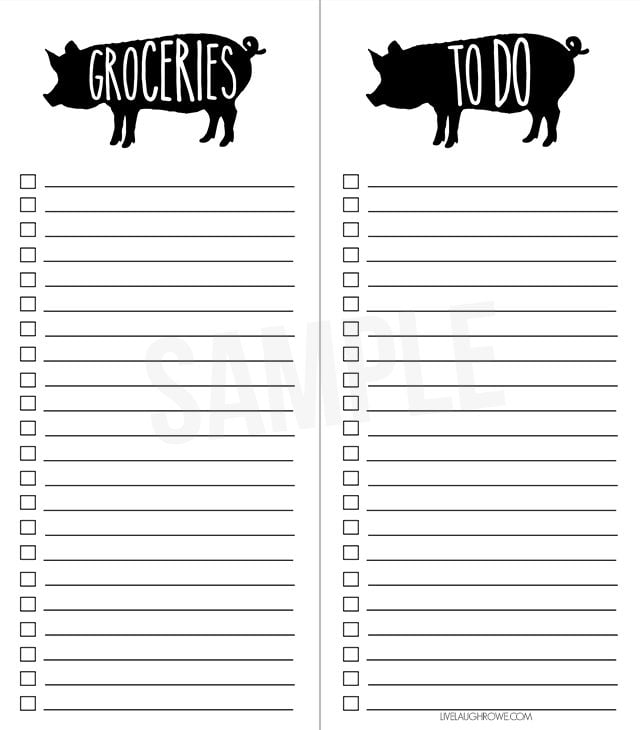 *Please Note: All printables and downloads designed by Live Laugh Rowe are for PERSONAL USE ONLY. Please do not alter the file or claim it as your own. This file is not intended for resale, nor are the printed versions of this file.

Be sure to visit with me here too:
Facebook | Instagram | Pinterest | Twitter | Google+