Inspired by Martha Stewart, these mini cornucopia favors are simply darling! Who doesn't love cornucopias? Did you know they're a symbol of 'plenty' because they are usually overflowing with flowers, nuts, etc. I thought these would make perfect Thanksgiving favors — or a perfect addition to any of your upcoming fall festivities!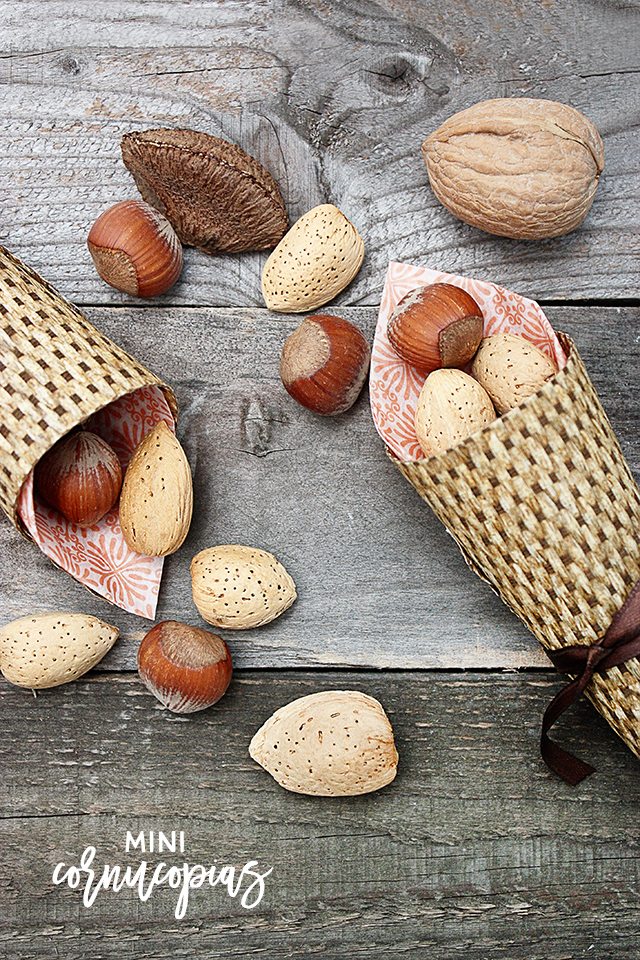 Aren't they fabulous? Keep in mind that you can use so many different supplies for making the cornucopias — like thin wood, caning, cork, etc. Let's take a look at how you can pull this craft together.
Supplies for Cornucopia Favors:
Paper or EasyLiner*of choice (similiar)
Scissors
X-ACTO Knife (or blade of choice)
Healing mat
Ruler
Brown Ribbon (or color of choice)
Glue/Glue Gun
*I purchased my EasyLiner in-store at The Container Store.
Step One:
The first thing you'll want to do is create a template. You can do this with an X-ACTO knife and cutting mat or scissors. Obviously if you use a blade and ruler, your lines will most likely be a little cleaner/straighter. Totally up to you. Take an 8-1/2″ x 11″ sheet of paper and cut it to 7-1/4″ wide by 5-1/4″ high. You'll then want to cut off the corners at an approximate 45 degree angle.
Pssst: Or you can download this cornucopia template that I created for you.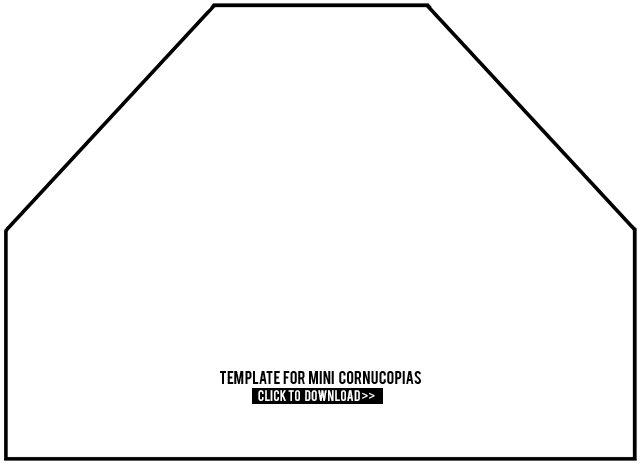 Step Two:
Now trace that template onto your paper and/or EasyLiner of choice. Cut them out and roll the surface into a cone shape.
Step Three:
Once you've rolled each of them into the shapes of the cone, use a fast drying glue or a dot of hot glue to hold them in place and tie a ribbon around it and knot. Line with decorative tissue paper if you'd like — and your done!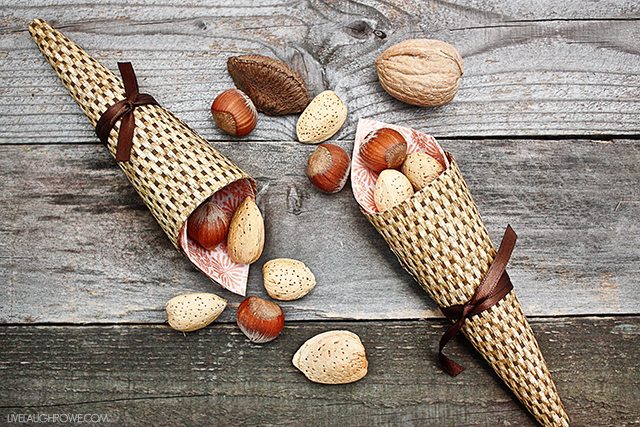 A fun, festive favor that you can fill with nuts or other goodies of choice.

Be sure to visit with me here too:
Facebook | Instagram | Pinterest | Twitter |Google+