Who doesn't love the story of Frosty the Snowman? He was such a jolly happy soul!
I have many fond childhood memories of watching Frosty the Snowman, building snowmen, and watching my mom collect hundreds of them. Most snowmen just make me smile! Last year (when I think I had three readers, hee-hee), I shared a DIY Snowman Can. So, how about an easy DIY Frosty the Snowman candy gift pot? A great gift for teachers, co-workers, friends, neighbors, and maybe even your bloggy friends!
For Halloween, I did these Fabulous & Easy Candy Corn Pots. Do you remember those? Well, the steps for this fun project are very similar so I won't bore you with all the same details. Jump on over to the candy corn pots for more specifics if necessary. Deal?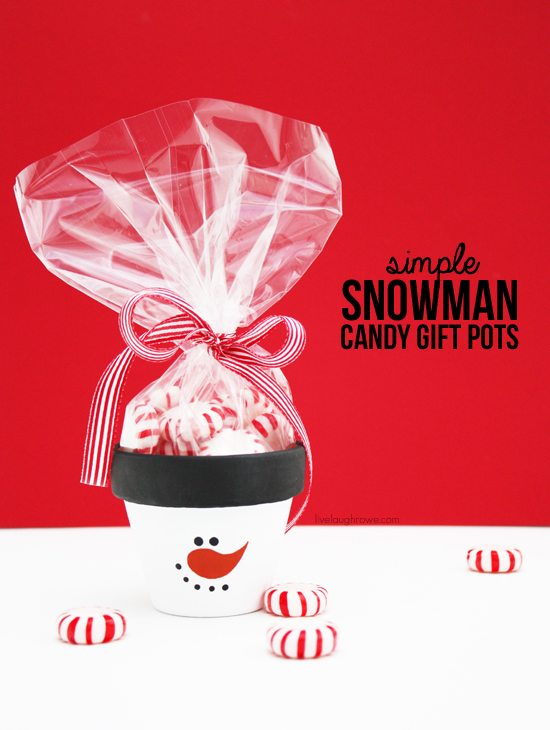 Oh my goodness, cute! RIGHT?
He totally makes you smile! Admit it.
.Supplies:
Terra Cotta Pots (@ 2.75″ x 2.75″)
Red, White, and Black Acrylic Paint
Paint Brushes
Starlight Candies (Dollar Store)
Clear Treat Bags
Ribbon
Step One: Paint your pots. White on the bottom, black on the rim/lip.
Step Two: Sketch your snowman's face with a pencil onto your pot. This way you can easily erase and correct any boo-boos.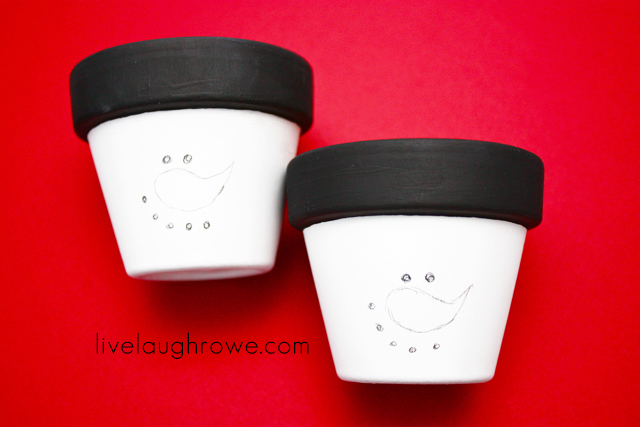 Step Three: Paint over your pencil sketch. Use a thin/fine paintbrush that is intended for details. I used Martha Stewarts — they worked perfectly! Here's a tip. I use the opposite end of the paintbrush to make my dots. Dab it into the paint and test on paper to ensure how light/hard you will need to press. This makes thee perfect dot!
Once you've painted your snowman faces, you're ready to fill your treat bags with starlight candies (or other candy of choice), tie with ribbon, and gift! It's fun, sweet, and easy!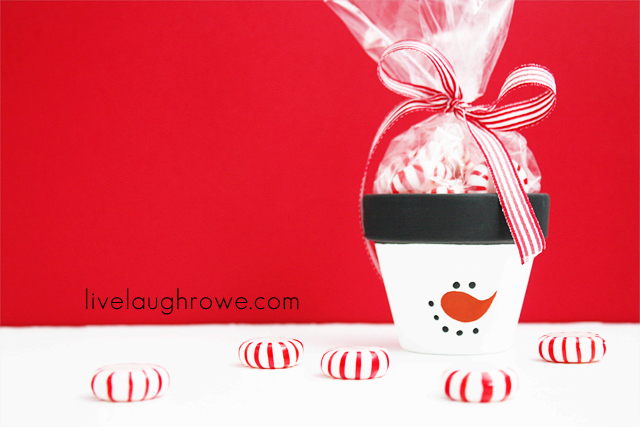 Are you tempted to bust out in song?
Frosty the Snowman, was a jolly happy soul.
With a corncob pipe and a button nose…
Happy Everything, friends!