Yep, I'm a little late to the the Thanksgiving printable party, huh? Oh well. That's okay! Why? Well, because we should be thankful all the time. I know that I'm blessed beyond measure and I never want to take that for granted.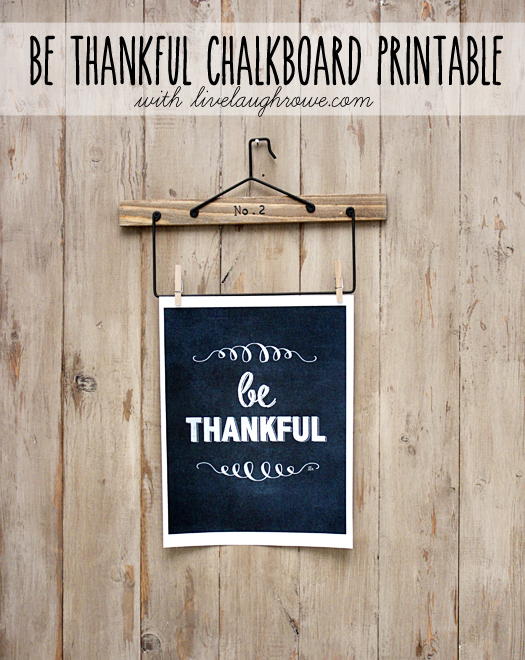 While I appreciate taking some extra time each Thanksgiving to be thankful, I never want to forget how blessed I truly am. I'll never forget in Sunday School years ago, the teacher saying that when we typically pray, we are asking for things. He reminded us that we should open a prayer with thanksgiving. Thanking the Lord for all that we have. I have never forgotten that and try to open every single prayer with a word of thanks. I am truly blessed and I trust that you can say the same.
Sure, we have rough patches and rocky roads on our journey, but in the big picture, we have so much to be grateful for. I think of those in third world countries who sleep on the cold hard ground, the homeless who don't know where they will get their next meal. I thought I would share my first chalkboard printable and keep it along the lines of something we should never forget to do: Be Thankful.

*Please Note: All printables and downloads designed by Live Laugh Rowe are for PERSONAL USE ONLY. Please do not alter the file or claim it as your own. This file is not intended for resale, nor are the printed versions of this file.
Take the time today to think about all that we have to be thankful for. I'm thankful for my family who loves me unconditionally, a supportive husband, a roof over my head, running water, freedom of religion, a vehicle, my furry friends and so much more! How about you?
Sharing here: Between Naps on the Front Porch
Subscribe to Updates | Like on Facebook | Follow on Pinterest