It's crazy town to think that we're about to kick off another new month — April!! We're four months into the new year already. The best part about it being April is that it means spring is here. I just love all the signs of spring! Well, today I have your free April 2016 Calendar and I'm loving the inspiration on it this month!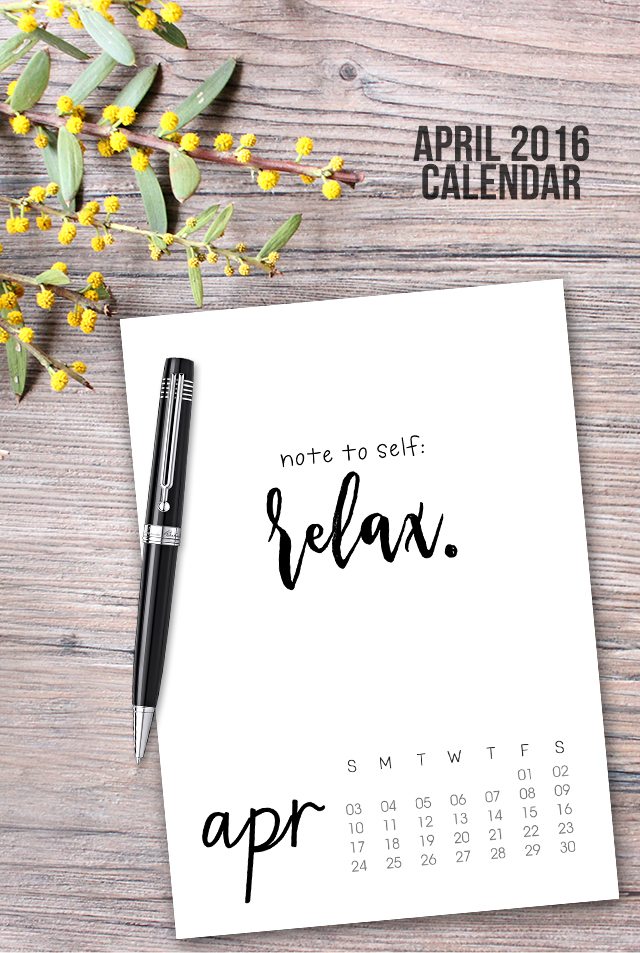 How often do we let things get to a breaking point? We become frustrated, irritable, we're exhausted, stressed, etc. This months printable calendar is a perfect way to remind ourselves to RELAX.
note to self: relax.
I seem to work best under pressure, not always the best way to work, but I seem to do it. HA! When I'm under the crunch of deadlines, I also tend to get a little high strung, it's kind of a lose lose. However, I'm happy to report that after my recent shoulder surgery, I've slowed some work things down a bit and I feel a lot less stressed. Guess what? It's kind of nice. There are days where I choose to do less work and more play — take a little more time for me.
How about you? Do you take some time for yourself, time to relax? If you don't, you might hang this in a place where you'll see it. Maybe you can schedule a manicure, massage, or a coffee date with a friend.
*Please Note: All printables and downloads designed by Live Laugh Rowe are for PERSONAL USE ONLY. Please do not alter the file or claim it as your own. This file is not intended for resale, nor are the printed versions of this file.
Let's do this! Let's take a little more time this month to r-e-l-a-x!

Be sure to visit with me here too:
Facebook | Instagram | Pinterest | Twitter |Google+
Linking up to Between Naps on the Porc