Does anyone know where August disappeared to? It's hard to believe that September is here and fall is just around the corner. I am STOKED! I love fall and everything about it, so I'm counting down the days. Today I have the 2016 September Calendar for you with a simple, yet powerful reminder to, "Do what is right. Not what is easy."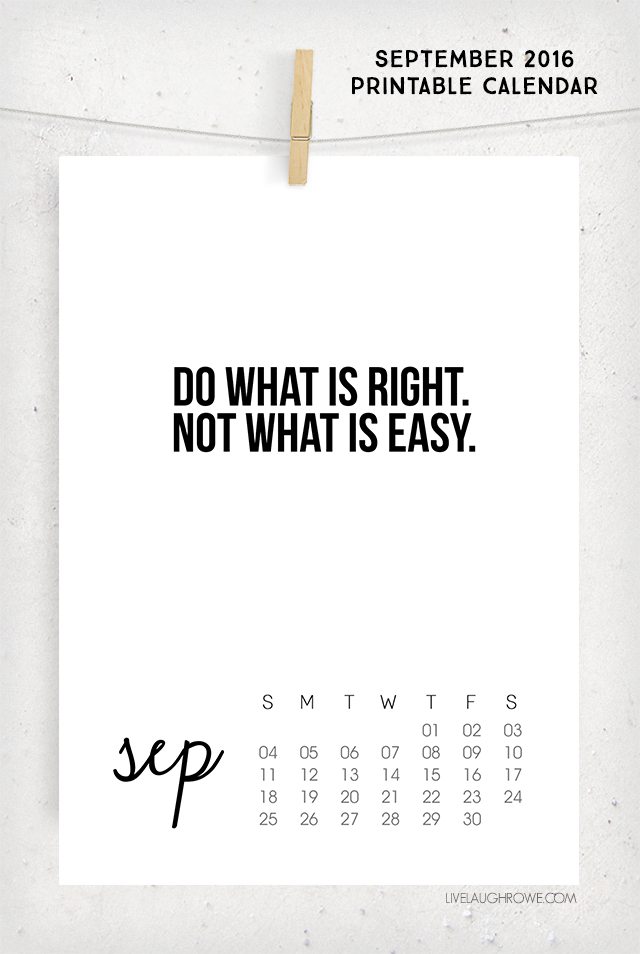 I'm sure we can all agree that sometimes it would appear much easier to take the easy road in life. We're surrounded with reminders on how to make quick money, how to make work easier, how to cut corners on a big project, etc.
However, sometimes we need to be reminded that it's better to do what is right, not what is easy. There's been some very intense conversations in the blogging industry lately about bloggers who take the easy route — easy money, higher pageviews, etc. I don't typically speak up in those conversations, but I ALWAYS have an opinion. (hee-hee) Unfortunately, there are those in this industry who will choose to take the easy way to make more money or get more pageviews, even if it isn't 100% honest.
I'm sure you can relate. Has a co-worker ever done something that just felt icky? You know it wasn't the best (or right) decision, but ultimately their choices are their own. That is what I've concluded. It's between them and their own consciences. Money and pageviews are important in this industry, but I want to achieve them honestly, without upsetting my peers, readers or sacrificing my reputation.
I've lost a great deal of respect for some bloggers, but I've also decided that it's their business and their choices. I just want to do what's right for me and my business (my blog) without feeling like I'm doing something shady.
*Please Note: All printables and downloads designed by Live Laugh Rowe are for PERSONAL USE ONLY. Please do not alter the file or claim it as your own. This file is not intended for resale, nor are the printed versions of this file.
Here's to September — and doing what is right, friends! Hugs all around.

Be sure to visit with me here too:
Facebook | Instagram | Pinterest | Twitter |Google+