Happy What I Wore Wednesday!
Hi friends!! Happy Wednesday to each of you! How was your weekend? How is your week? I'm having a lovely week. I spent a great deal of time playing catch up this weekend on posts and orders for my shop so I could enjoy President's Day spending some extra time with my hubby since he was off work. We headed down to one of our local favorite greek restaurants called Ari's. It's sooo good and the Greek Chicken Salad falls within what I can eat, so it was a win-win. Do you know what I loved the most? Spending extra time with my hubby. We both get soooo busy with our work that we often don't take time to stop and smell the roses. Well, on Monday we did just that!

Before we get the whole point of a WIWW post, I just had to share a sweet comment left by a reader last week. I've mentioned before how I'm sure true blue fashionistas stop by here and chuckle. I'm quite average in what I buy and wear, I know that. However, there are weeks where I wonder how many people really want to see silly me and my ordinary style. Well, Robyn made me smile and reminded me that I don't have to be extravagant.

How sweet was that? Thank you, Robyn, for reminding me that in staying true to myself I can inspire others. Hugs!!!
Now on to the main event. I love stripes! However, they're not always the most flattering, so I don't wear them often. On this occasion, I loved the black and white with a pop of color! Enjoy.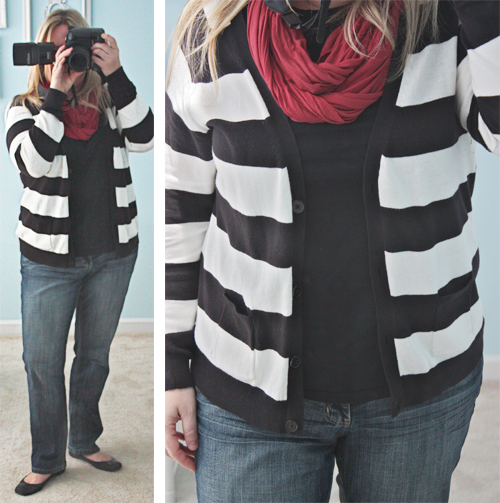 Cardigan: JcPenney
T-shirt: Target
Jeans: Hand me down
Infinity Scarf: Roots
Shoes: Lucky Brand from Macy's
Stay fashionable. Stay fabulous.
.
I'll be linking up over at WIWW with The Pleated Poppy.
Subscribe to Updates | Like on Facebook | Follow on Pinterest