Trick or Treat are two very popular (maybe even over used) words on the big day — Halloween. I couldn't resist sharing this cuteness with you today, because, well, it makes me smile! And, who doesn't enjoy a free and festive Halloween printable?
Adorable Trick or Treat Halloween Printable


Isn't that quote perfection too? I'm a sucker for a good quote and this truly embraces the traditions of Halloween.
When porches fill with little feet
it's time to call out, "trick or treat." (Rusty Fischer)
I was raised in a pastors home, so I didn't do a lot of trick or treating, but there are a couple of occasions that I have very fond memories of. One year, my twin and I were dressed up like clowns — and all I can remember is how much that wig made my head itch.
Another time was when we were visiting our Grandma in Batavia and we got all fancied up like gypsies… and I have no idea where the outfits even came from. Maybe my grandmas closet!?!? Haha. I found this old photo and it's very poor quality, but it's perfect in it's old walk-down-memory-lane kind of way. Ya know?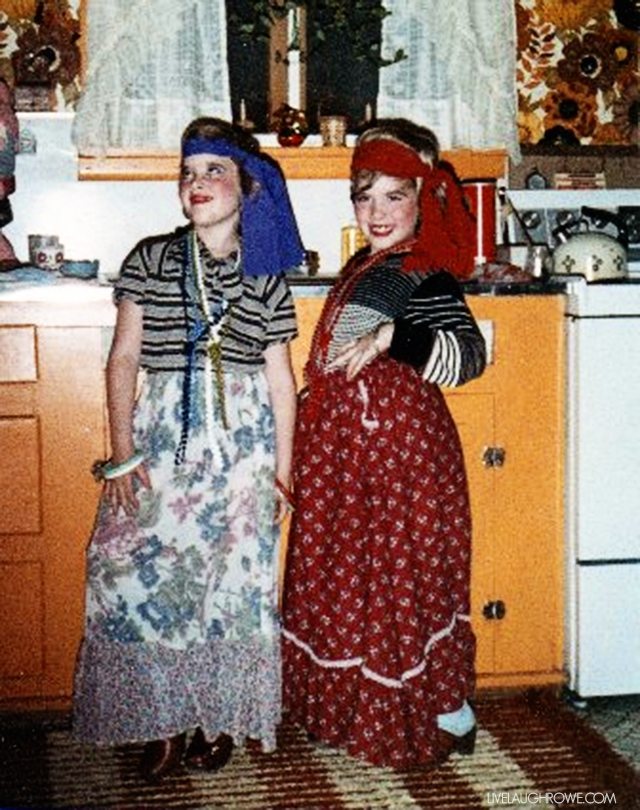 The seventies called and it wants this kitchen back. Hee-hee.
Do you have a favorite memory? Of course, the candy was always a HUGE hit too… sweet treats for weeks. I don't have kids now, but I always enjoy seeing them on Facebook and on Instagram. It's always fun to see the creativity put into costumes too.
I hope you enjoy this sweet Halloween printable. Hang one on a clip board, the refrigerator or on your kids bedroom door to add a little cheer in anticipation of the trick or treating fun.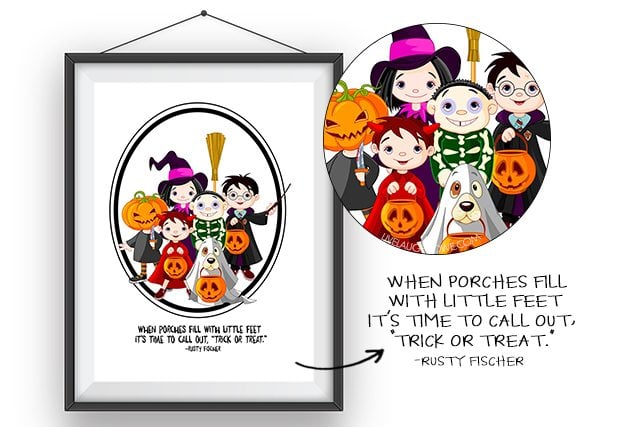 *Please Note: All printables and downloads designed by Live Laugh Rowe are for PERSONAL USE ONLY. Please do not alter the file or claim it as your own. This file is not intended for resale, nor are the printed versions of this file.
Here's to trick or treating, memory making, and sugar highs!

Be sure to visit with me here too:
Facebook | Instagram | Pinterest | Twitter |Google+