Let's talk a little bit about a Southern Romance with Phantom Screens — a couple of days filled with old and new friends and learning about dreams coming true!
On occasion, I get to be a part of something pretty darn cool. Last month was one of those occasions. Earlier this year, I received a flattering invitation from Phantom Screens to join them (and seven other bloggers) in Mobile, Alabama to learn more about an incredible house renovation that was taking place.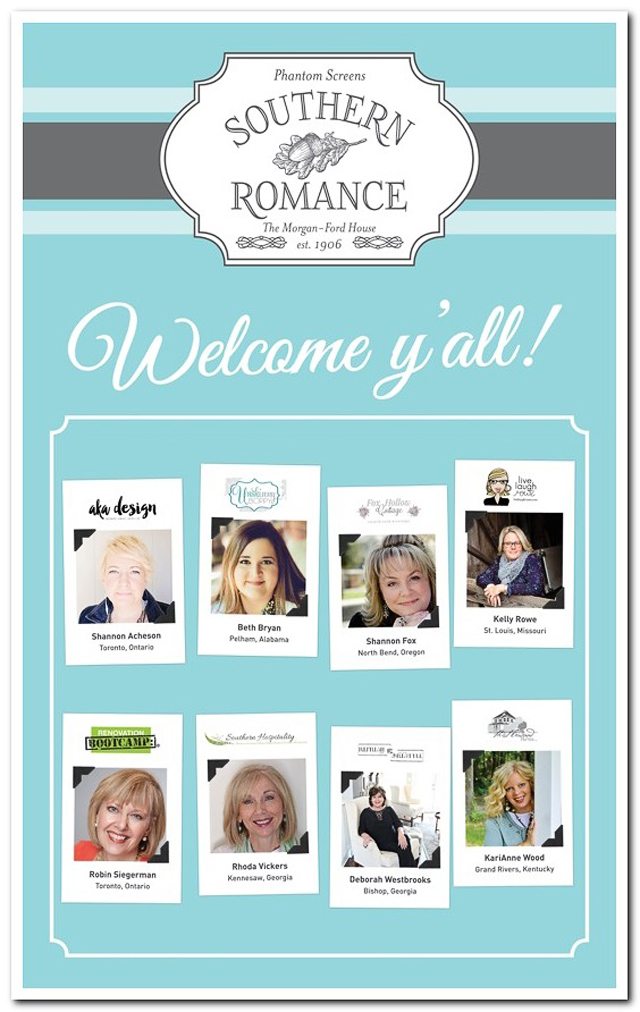 Of course when I accepted the invitation I had no idea I was going to be hanging out with so many friends — and Phantom Screens had no idea how many of us already knew each other. It was such a blast! If you're not acquainted with all of them, you really should swing by and take a look around.
Shannon: AKA Designs | Beth: Unskinny Boppy | Shannon: Fox Hollow Cottage
ME!! | Robin: Renovation Bootcamp | Rhoda: Southern Hospitality
Debbie: Refresh Restyle |KariAnne: Thistlewood Farms
This trip was the result of a dream. A dream that Esther De Wolde (CEO of Phantom Screens) has had for years and is now getting to see it come to fruition! This dream is actually #67 on Esther's bucket list (awesome-sauce). She's always wanted to restore an old southern home to it's former glory, so when the opportunity presented itself, her Southern Romance began. Woo Hoo!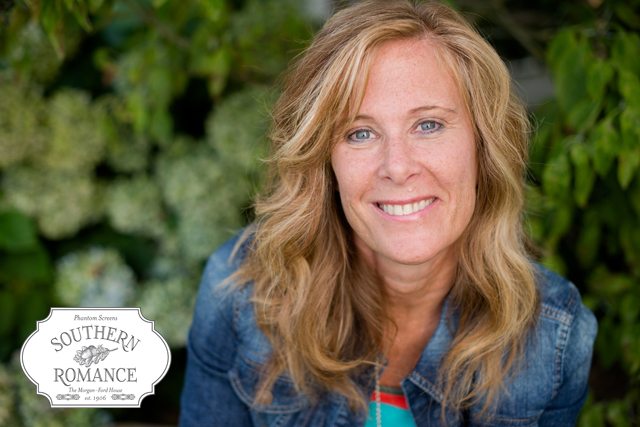 Now, I could share with you how Phantom Screens wined and dined us! And I could tell you all about the lovely Fort Conde Inn we stayed at (and how the week before our arrival, Matthew McConaughey had stayed there). I could even describe all of the wonderful swag and food we got as well. However, I'm not going to… I don't think those details embrace why we were really there — we were there to hear about Esther's dream and become better acquainted with the Southern Romance project taking place at The Morgan-Ford Home, a 1906 arts and craft bungalow.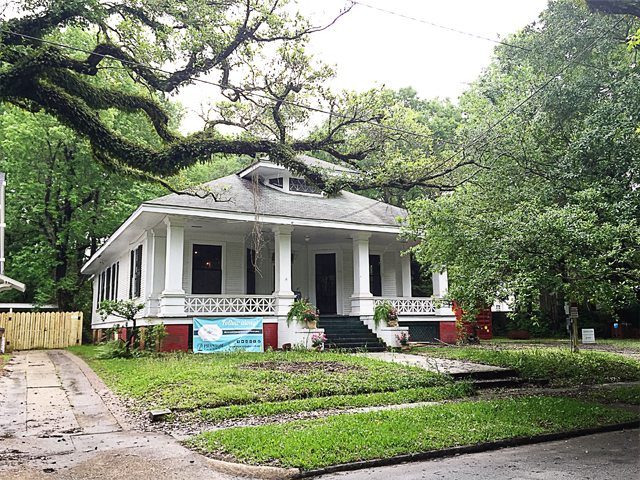 If a house could be lucky — well, this one is just that… lucky! Esther and Phantom Screens have teamed with Danny Lipford (host of Today's Homeowner TV show) for this renovation. Danny is her General Contractor. It's incredible how friendships and business relationships can morph into making dreams come true, isn't it? p.s. Danny is all kinds of awesome. The nicest guy!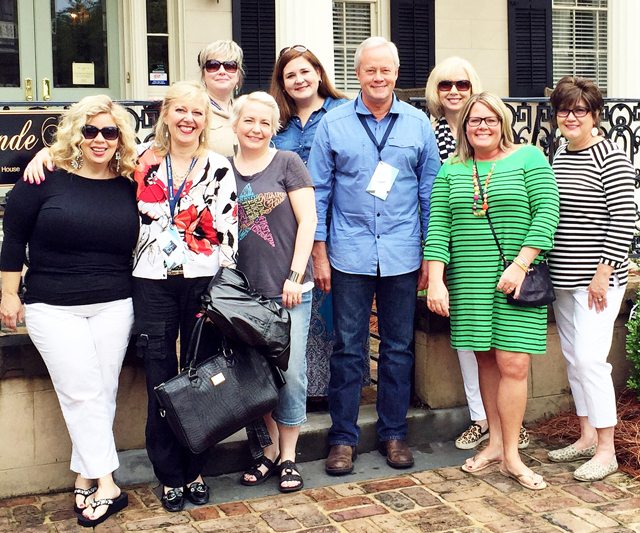 I'll share some pictures (courtesy of Phantom Screens) of the home before it was gutted down to the wooded studs (which is what we saw). In hearing from Esther and then seeing these photos, it's hard not to imagine the memories that were made within these walls.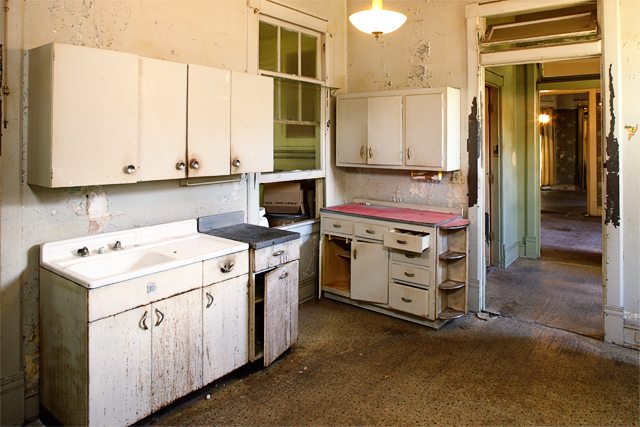 Old Kitchen
Mary's Pantry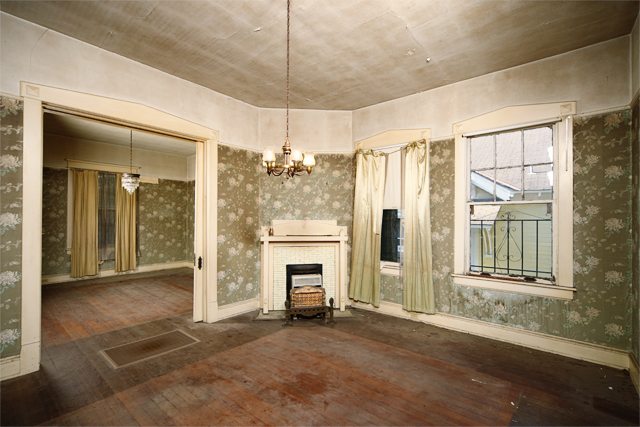 Dining Room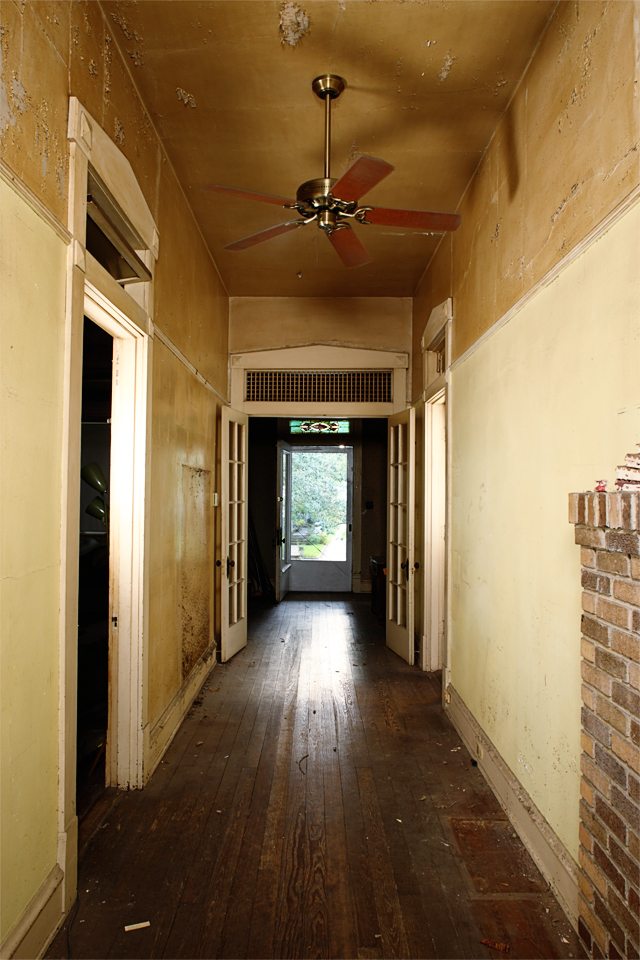 Main Hall. You can see from the back door to the front door (aka dog run).
Here is what this hall looked like when we visited: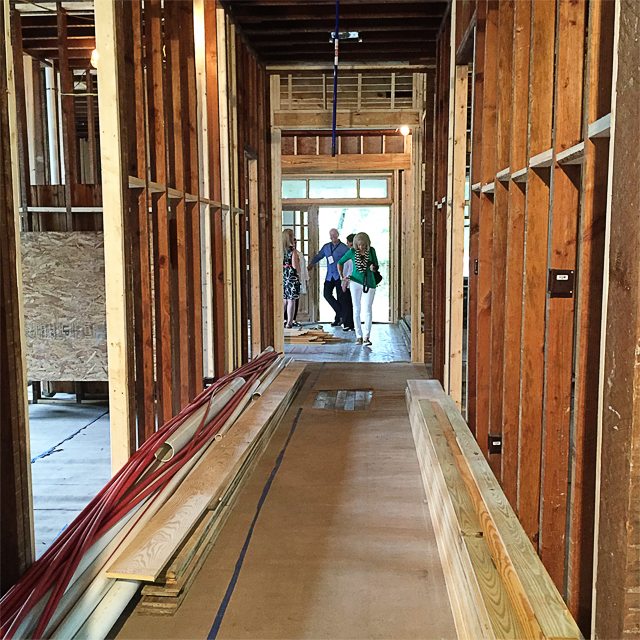 Phantom Screens had placed an easel with a mood board on it in each room, allowing us to see a before picture and some of the stunning inspiration for the final design of each room.
After Esther gave us a tour and shared about the history of the home and her hopes of keeping some of the character in the home (i.e. fireplaces, etc), we were able to go our separate ways to walk through the house, read the boards, and soak up the sights and sounds of the construction.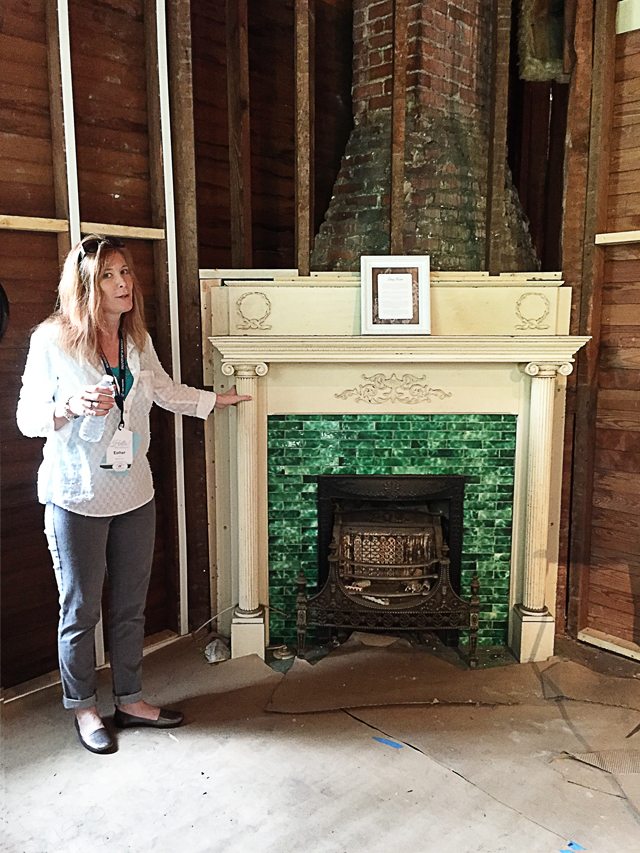 As I walked back through some of the rooms, I was reminded of the old song, "If these walls Could Speak" by Amy Grant. A favorite of mine, for sure…
If these old walls
If these old walls could speak
Of things that they remembered well
Stories and faces dearly held
A couple in love
Livin' week to week
Rooms full of laughter
If these walls could speak
If these old halls
If hallowed halls could talk
These would have a tale to tell
Of sun goin' down and dinner bell
And children playing at hide and seek
From floor to rafter
If these halls could speak
They would tell you that I'm sorry
For bein' cold and blind and weak
They would tell you that it's only
That I have a stubborn streak
If these walls could speak
If these old fashioned window panes were eyes
I guess they would have seen it all
Each little tear and sigh and footfall
And every dream that we came to seek
Or followed after
If these walls could speak
The bones of a home could tell so many stories. While this home is going through renovations, it's also starting a brand new story — one that Esther is unfolding! Eeeeks! Isn't that exciting?
While in Mobile, we got to watch Episode 6 (see below) before it was posted on-line… a sneak peek of sorts.
Watching Esther cry in this episode really showed her true passion for this project. Having 5,000 miles between you and your project has to be tough, and this episode really brought that element to life. At that moment, I was incredibly honored to be there, brushing shoulders with her and her marketing team (Kristina, Paul and Richard).
I could keep writing — there's so much to tell, but I'm nearing 1000 words which might be a record for me (hee-hee). So, I'll leave you with this, I'd love for you join me as I follow along with this southern home renovation. It's going to be magical!

Be sure to visit with me here too:
Facebook | Instagram | Pinterest | Twitter | Google+
I was invited with 7 other bloggers to Mobile, AL for this Southern Romance experience. Phantom Screens paid for our trip, including airfare and hotel. All opinions are my own.