Scavenger Hunt inside the House
Many families are on the hunt for some boredom busters, "recess" ideas or easy games to keep their littles busy (rain or shine) these days. So I went to work on an Indoor Scavenger Hunt. A printable game that the kids could tackle on their own, partner with a brother, sister, mom or dad.
And did I mention that it's a coloring sheet too? Ahem, yep. Two for the price of one: FREE.
Be sure to sign up for my email to get new
recipes and creative ideas sent right to your inbox!
Who's ready to play a game?
Over the years I've shared a few scavenger hunts. So as the weather gets more beautiful, consider taking advantage of these outdoor scavenger hunts too: Bug Scavenger Hunt and Nature Scavenger Hunt. Great activities to get some sunshine and a little fresh air. Right?
However, who says you can't have fun doing an indoor scavenger hunt? I was thinking earlier that with spring showers, a national crisis, and restless kiddos — parents are probably on the hunt for some kid-friendly games. And since I've already done a couple for the great outdoors, it was time for one that would work indoors.
Looking back on my childhood, I remember when it came to playing indoors, we were usually in our basement or someone else's basement in the neighborhood. During the warmer months — the basements were much cooler. Side note, we didn't have central air in Upstate New York.
When we stayed home, my sister and I would play store, atari, and/or put our imaginations to good use. I remember keeping a game of Monopoly going in one of the neighborhood homes too. Some great memories were made.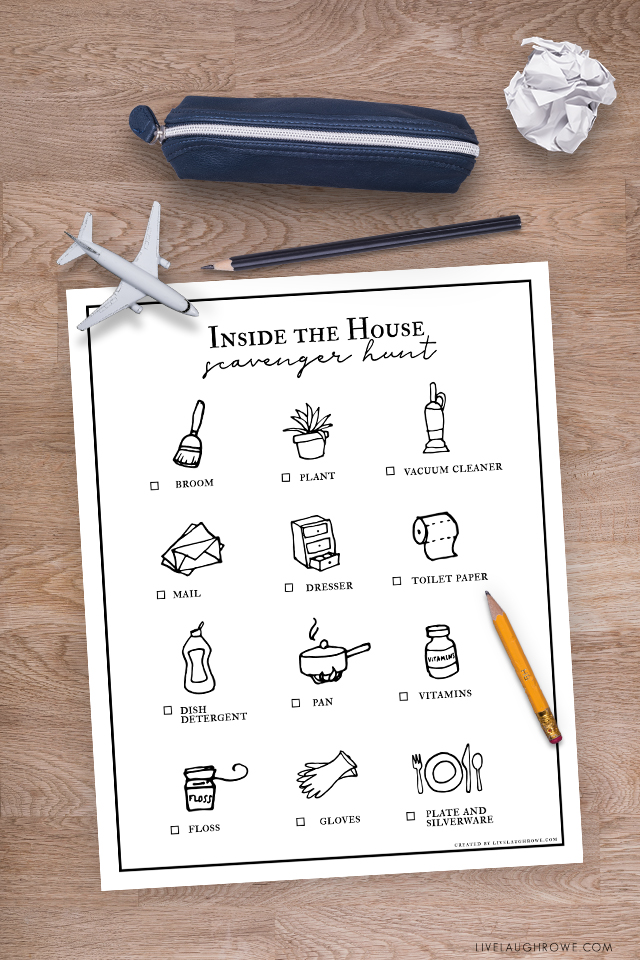 There's nothing wrong with making those memories early either — even if it's with word games, I Spy games or an Indoor Scavenger Hunt. We have so much technology these days, it's easy to let the kids play on their devices or watch way too much tv. Having some fun and different activities planned out adds some variety and stimulation.
Most importantly this printable is super versatile — one day it's a scavenger hunt and the next day it's a coloring sheet. You could even have the kids color the items as they find or discover them. Oh, the possibilities. Yay.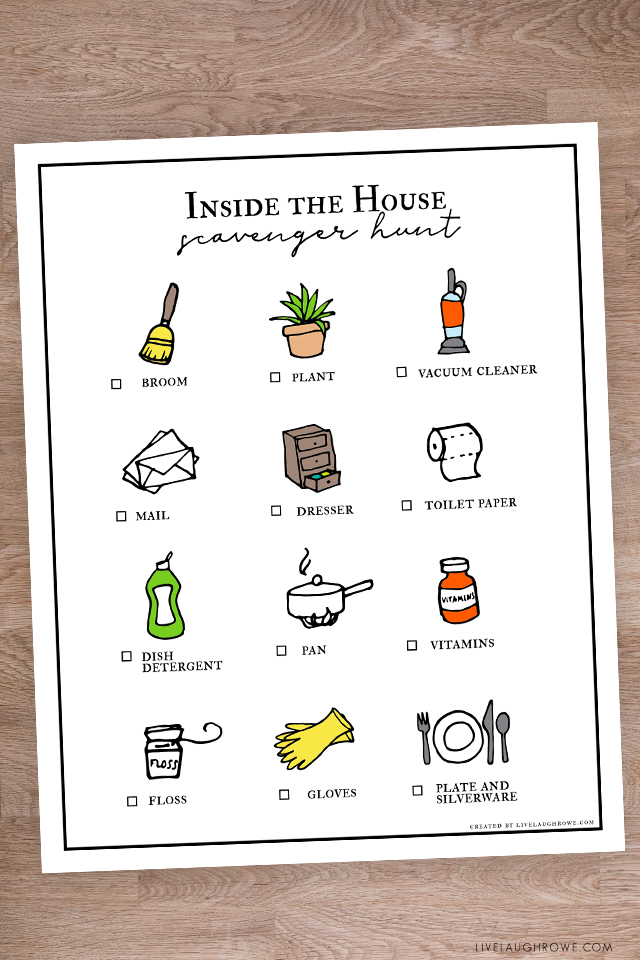 Supplies:
White Paper or Colored Printer Paper
Printer
Pencil(s)
Colored Pencils or Crayons, optional
This Indoor Scavenger Hunt activity is as simple as print and play. Consequently, it's easy peasy. Sized at an 8-1/2″ x 11″ — there's no cutting necessary. Are you ready for a little fun? Get creative and let the kids have a good time scouring the house for these household items.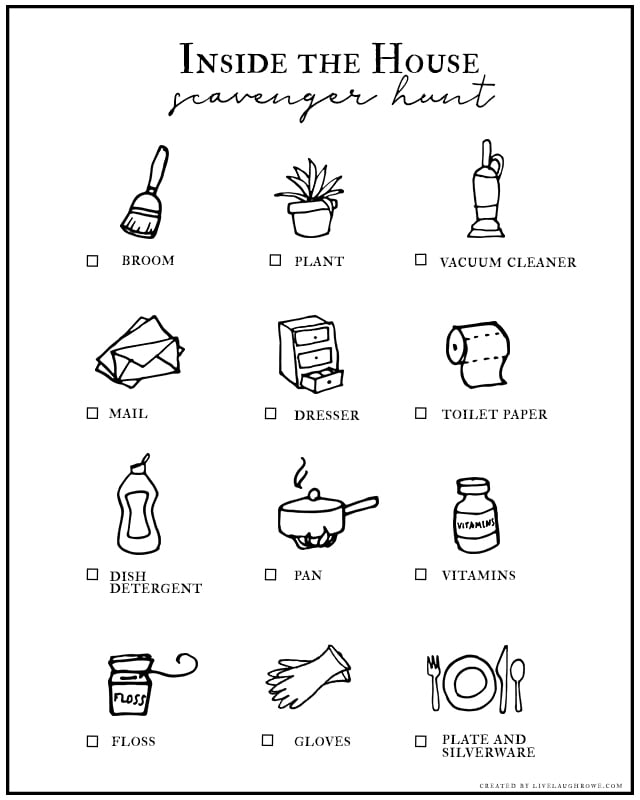 *Please Note: All printables and downloads designed by Live Laugh Rowe are for PERSONAL USE ONLY. Please do not alter the file or claim it as your own. In addition, this quote printable is not intended for resale, nor are the printed versions of this file.
Connect with Live Laugh Rowe!
Facebook | Instagram | Pinterest | Twitter
Hugs and Blessings!