Tis' the season to be jolly! What makes you jolly during this time of the year? Holiday songs, shopping, the snow? This is my favorite time of the year (minus the crazy crowds and traffic).
I love the colder weather, all the festive music, decorating, wrapping, gift giving and more. If you stopped by, you might catch me singing a few of my faves at the top of my lungs.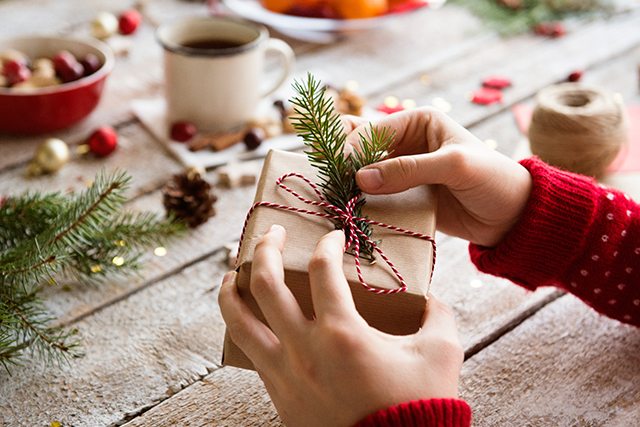 This year, as we're unpacking and settling into our new house, I happened to stumble upon a CD sitting on a table that said Holiday Mix 2006 created by Kelly Kuert (my maiden name). I smiled. My sister and I made mixes all the time — particularly every Summer.
After picking up the CD and reading through the titles, I opened the cover and saw this note to Steve (we were dating at the time):
"This is a compilation of some of my favorite artists and holiday songs, as well as yours…. while other are just appropriate for "us." May these songs remind you of how Christmas is the jolliest, holliest, lightest, brightest, best time of the year. Merry Christmas, Darlin!"
I forgot out about this mix I put together — and would you believe that I made one for my parents and my sister too!?! My mom told me that their Holiday Mix is one of their favorite Christmas CDs. Isn't that the sweetest? Kinda made my day!
On Sunday I was putting up our tree and the hubs and I played the CD, it really is a great mix of songs. It was like listening to a commercial free radio station (wink).
Each sight, each sound of Christmas
And fragrances sublime
Make hearts and faces happy
This glorious Christmastime." ~ Carice Williams
The more I thought about it, the more I realized that sharing this playlist with all of you would be fun. From Elvis to Mariah, you're sure to agree that these are some pretty great songs. Maybe you'll find a new favorite or two!
21+ Holiday Songs — some of my favorites!
All I Want for Christmas is You – Mariah Carey
Blue Christmas – Elvis Presley
Rockin' Around the Christmas Tree – Brenda Lee
My Grown-Up Christmas List – Kelly Clarkson
Have Yourself a Merry Little Christmas – Frank Sinatra
Merry Christmas Darling – The Carpenters
Santa Claus is Back in Town – Elvis Presley
We Call it Christmas – Keb' Mo'
Please Come Home for Christmas – Eagles
God Rest Ye Merry Gentlemen – Barenaked Ladies with Sarah McLachlan
On Christmas Day – Pete Droge
I've Got my Love to Keep me Warm – Billie Holiday
It's the Most Wonderful Time of the Year – Andy Williams
The Kid in Me – Phillips, Craig & Dean
Sleigh Ride – The Carpenters
What are you doing New Years Eve? – Ella Fitzgerald
Merry Christmas Baby – Elvis Presley
Baby It's Cold Outside – Dean Martin
White Christmas – Bing Crosby
Kissin' by the Mistletoe – Aretha Franklin
That's What I Want for Christmas – Nancy Wilson
Jingle Bell Jamboree – Keb' Mo'
A Christmas to Remember – Amy Grant
Here's to the holiday music that makes us smile! Share a favorite Holiday Song with me in the comments… I'm always on the hunt for some new jams!
p.s. In case your wondering, my favorite holiday movie is White Christmas. Bing Crosby and Danny Kay were a PERFECT pair in that one… and don't even get me started on the music. LOVE!

Be sure to visit with me here too:
Facebook | Instagram | Pinterest | Twitter | Google+