Sooo, ever have an idea that you weren't sure about, but then you fell in love? Well, that's how this post came into fruition. I've seen posts recently about gifting a 'party in a box.' So, on a recent trip (of many trips, might I add) to Target, I saw some chocolate boxes on sale 5 for $5. I wanted to send a little something home to family and I thought my version of a party in a box would be perfect in heart shaped boxes that I could decorate with my own style. Hmmmm…. after a little 'trial and error' I ended up falling in LOVE! These DIY Valentine Gift Box are not only adorable, but VERSATILE. And, you know what, I love versatility! Don't you?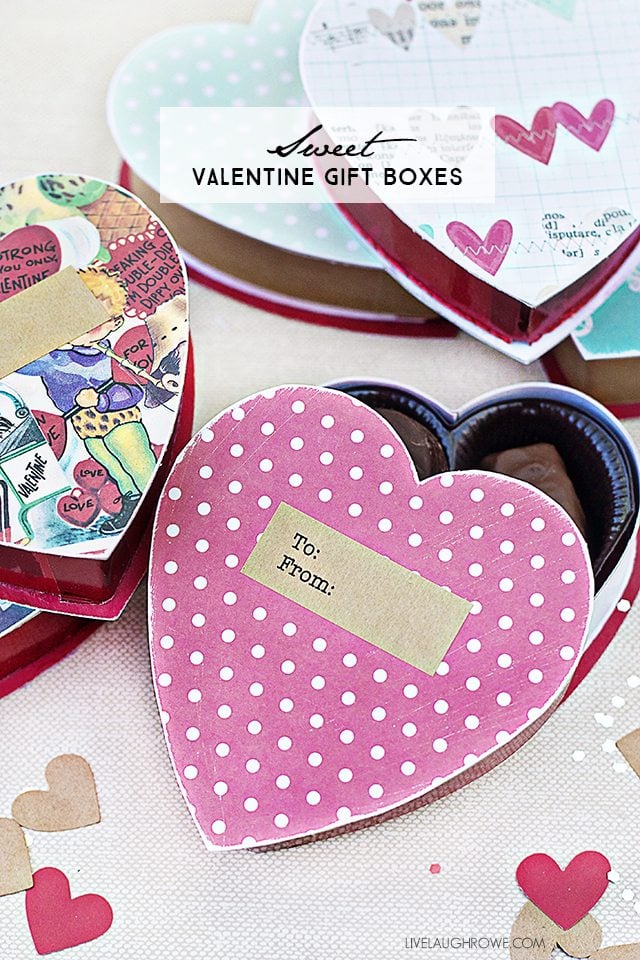 Supplies:
Chocolate Boxes
Scrapbook Paper
Scissors
Glue Stick
Glue Dots or Double Sided Tape, optional
It all starts with a box of chocolates (I chuckled as I wrote that while saying it in my best Forest Gump voice. HA!) and assorted scrapbook papers.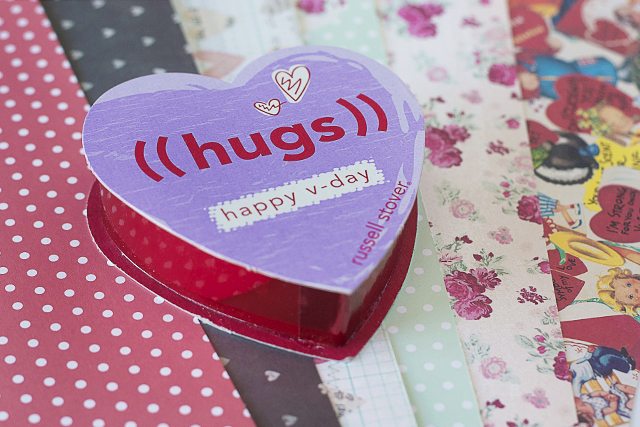 Next up, you're going to trace two hearts onto your paper. I traced mine onto the opposite side of the paper I was using, to avoid having any ink smears, etc.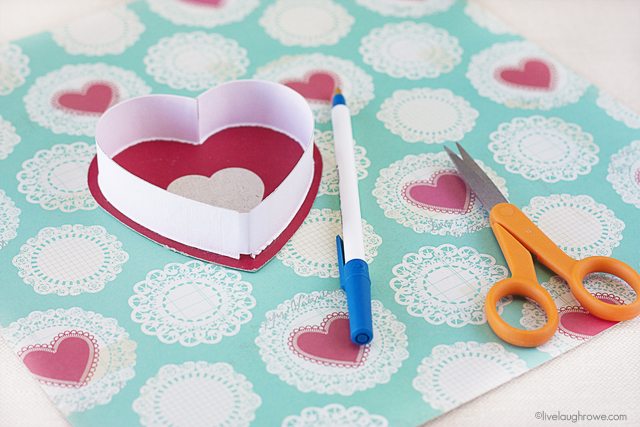 Once you've got traced and cut, you're going to apply them to both the top and the bottom of your heart shaped chocolate box using a glue stick (be sure it's permanent). Yep — just a glue stick, no brushes or mod podge for these cuties!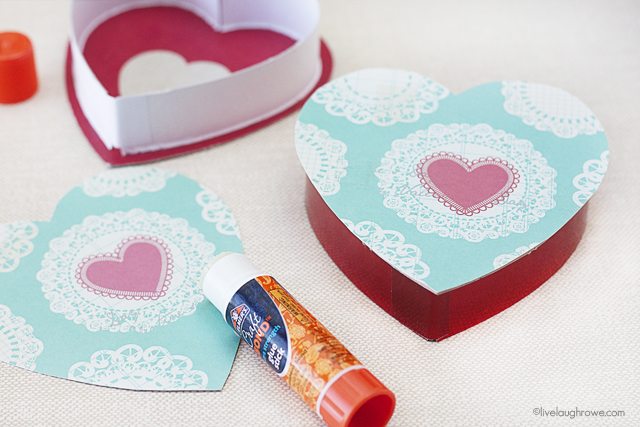 Once you have the paper attached, feel free to add additional embellishments. I sanded all of the edges of my boxes with a little sand it gadget to add a little wear and tear (aka a vintage feel).
Another fun thing to consider is adding Kraft Paper Tape to the edging of the chocolate box. I think my family thought I was nuts when I put a roll of this on my Christmas list — well, now, it's going to a super cute use and I love all things "kraft."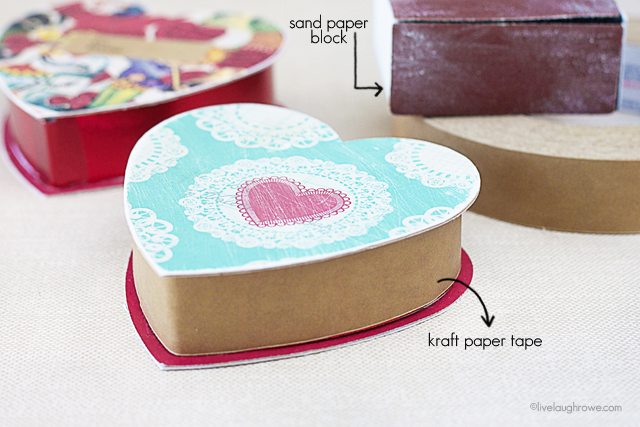 Want to hear something even better about this little upcycle? It will take you about 10 minutes. Wha? 10 minutes? Yep, that's it!! Boom.
I'm sharing two ways I'll be utilizing my boxes… ready?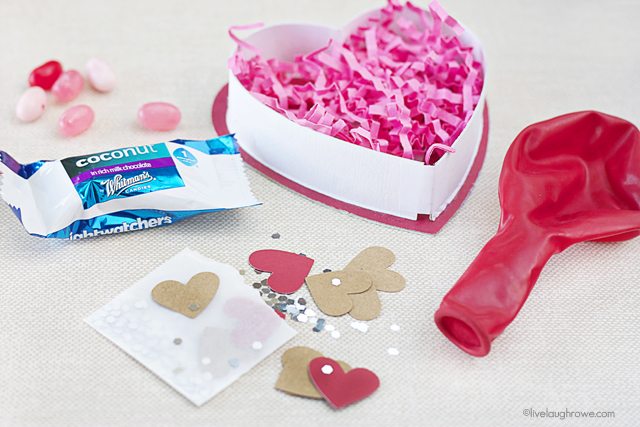 Collect few fun items. I used basket filler, balloons, candy, confetti packaged in a small glassine bag and loose jelly beans! Seriously, these are party essentials, right?
Place them all in your now empty chocolate box — placing the bag of confetti on top (not pictured). Your mini party in a box is ready to go! To re-seal the boxes, I used some double sided tape and/or glue dots! Happy gifting.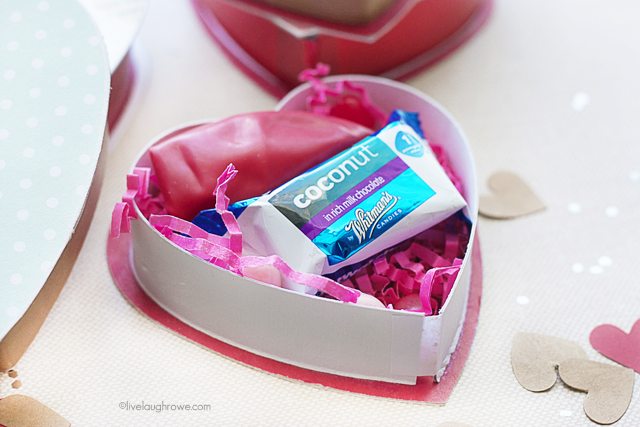 Ready for option #2? Yes? Okay, here we go. Being that I am on a diet, a box of chocolates would be of no use to me. I still can't believe that Whitman's hasn't created chocolate boxes with Weight Watchers Candy. So, I made my own!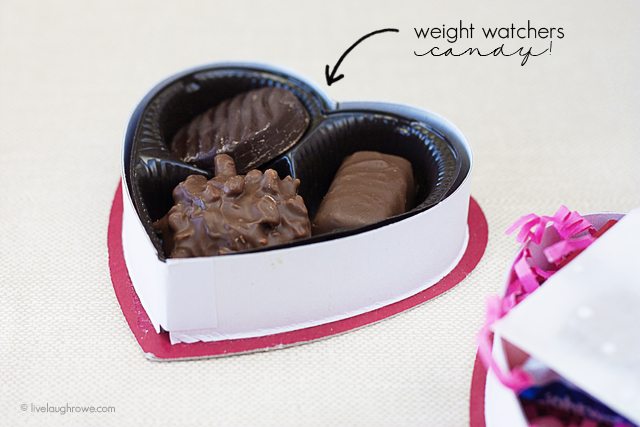 I just swapped out the chocolate for Weight Watchers (WW) candies. I'm on Weight Watchers — and I know a lot of friends are keeping a close eye on their diets, so these Weight Watchers Box of Chocolates fits the bill. Mine included one piece of each of the following: Pecan Crowns, Mint Patties and Coconut. I'm going to take a couple of boxes to my WW meeting to give to the receptionist and the leader of the meeting I attend. I think it's perfect!! What do you think?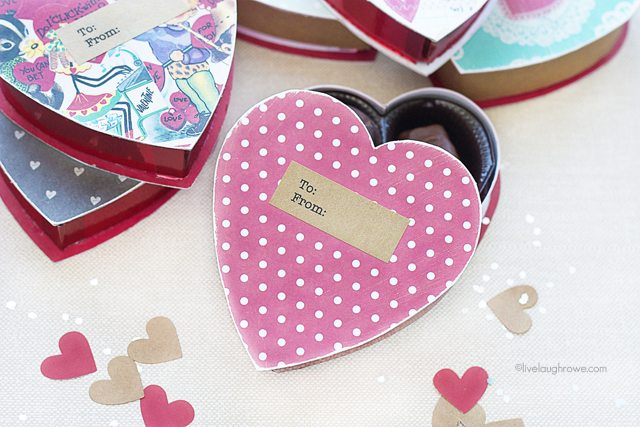 Sweet crafts with even sweeter uses? Yes, please!!
Happy Creating these DIY Valentine Gift Boxes!! xoxo

Be sure to visit with me here too:
Facebook | Instagram | Pinterest | Twitter | Google+