Oh chocolate, how I love thee! Chocolate is a weakness. And when it comes to finer chocolates, one of my favorites is GODIVA. After college, I worked in a Bath and Body Works store in the Willowbrook mall back in New Jersey. Across the way sat this store that was filled with yummy goodness… it was a GODIVA Chocolatier. That was the first time I tasted a truffle and I was hooked, to the point that I ate them more than once a week and filled up Christmas stockings with them for friends and family. I believe addicted might be a good word to sum it up. {giggle}
So, let's fast forward to, oh say, ten years later. Imagine my surprise when I hear about the new GODIVA Truffle FlightsTM. The chance to explore the truffle flights in flavors such as Cake, Dark Decadence, Heavenly Mousse, Milk Chocolate, Nut Lovers and Ultimate Dessert. The Nut Lovers Truffle Flight is calling my name! (you're getting hungry. very, very hungry)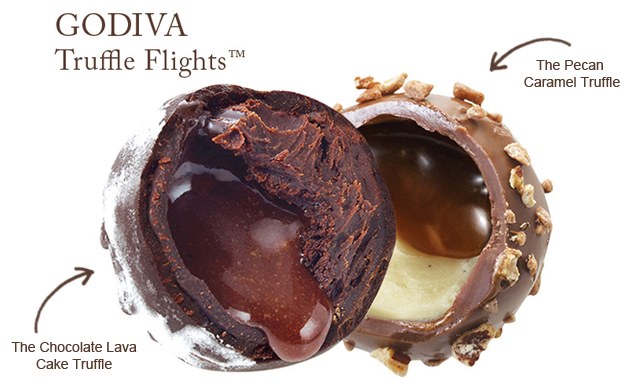 Or how about the Cake Truffle Flight — from Birthday Cake to Lemon Chiffon to Cheesecake. Oh my glorious goodness! Are you ready to grab your keys and find the store closest to you? I am… but if you're still not convinced, watch this:
GODIVA has been the leader in premium chocolate since 1966, when it was brought to America. Now it's sold in hundreds of boutiques worldwide and GODIVA products are also available for purchase at GODIVA.com, through seasonal mail-order catalogs, by phone, and at select fine department and specialty stores.
So, chocolate lovers rejoice! GODIVA Truffle FlightsTM are here and we get to delight in the flavors, aromas and textures. So tell me, which flight would you try first?
Subscribe to Updates | Like on Facebook | Follow on Pinterest


I am bringing this post to you through my partnership with Godiva and sharing the news about their #TruffleTakeoff movement.