This is a sponsored post written by me on behalf of My M&M'S for IZEA. All opinions are 100% mine. Affiliate links are included for your convenience.
Getting old is hard to do! Wouldn't you agree? Recently (okay, okay last year) I turned 40 and in a few years my hubby will be turning 50. Where does the time go? Tap-tap-tap. Did you hear me? Where does the time go, people? Sigh. I remember celebrating my 16th birthday and getting some of my very first packages of makeup. Sniff. Sniff.
Alrighty, I'll give you this — there is one good thing about getting older and that is all the celebrations we get to have along the way. Since I have a love for all things vintage, I thought I would share some vintage inspired birthday party ideas with you… and around the ripe age of 50. Ready or not, here we go!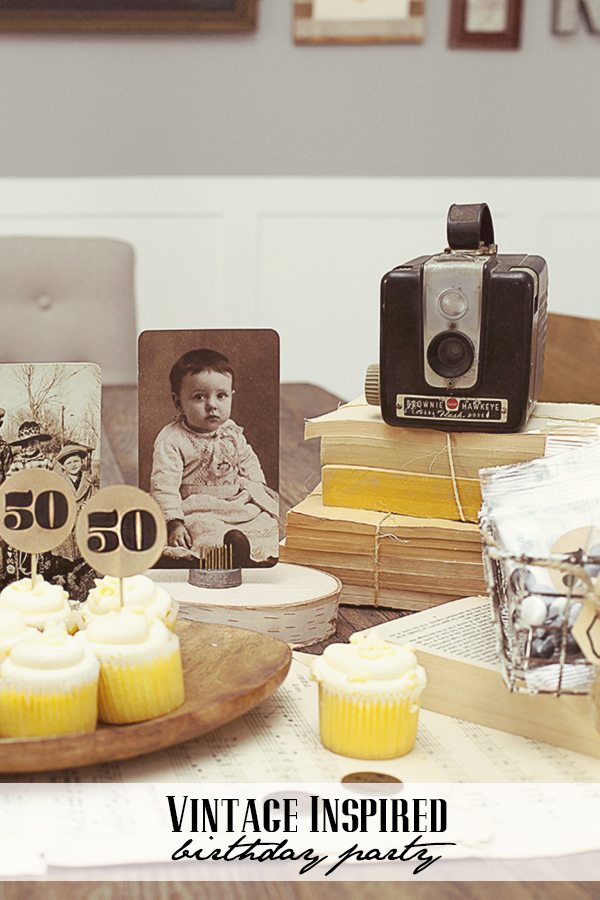 Here's a few of the supplies used:
Tim Holtz Philosophy Tags
Tim Holtz Found Relatives Cards
Recycled Frappuccino Bottles
Black and Kraft Polka Dotted Straws
Floral Frogs for pictures
Vintage Music Sheets
Custom M&M's from MyMMs.com
Old Books wrapped in twine
Vintage bowl for M&M's
Vintage Melamine Coffee Cups
Rusted Old Basket for Favors
Birch Wood Round
…and other misc findings.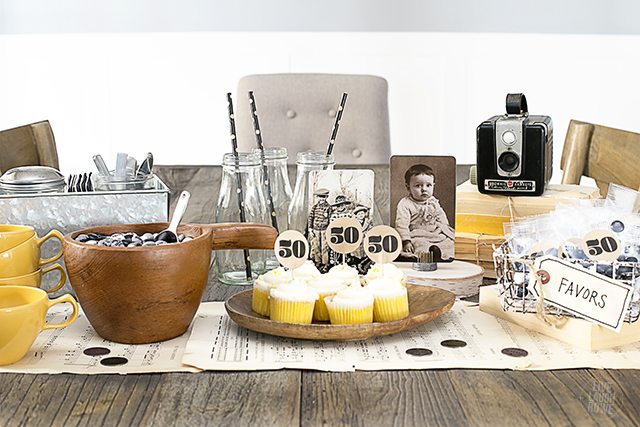 So, the highlight of this par-tay is the personalized M&M's. With endless possibilities, I was a little stressed with deciding on what to put on them. Then it dawned on me that I could make my own graphic and upload it — meaning any font! Woot. So, I went with two different graphics for mine. The number 50 was used on the black and white M&M's in the favor bags. *(The font for the numbers is Christmas Numerals, you're welcome).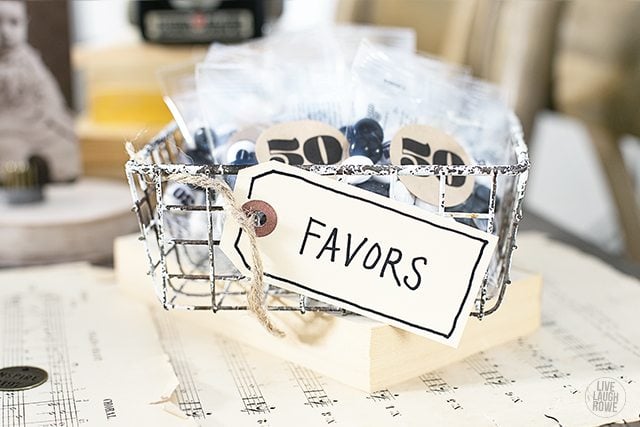 And a closer look.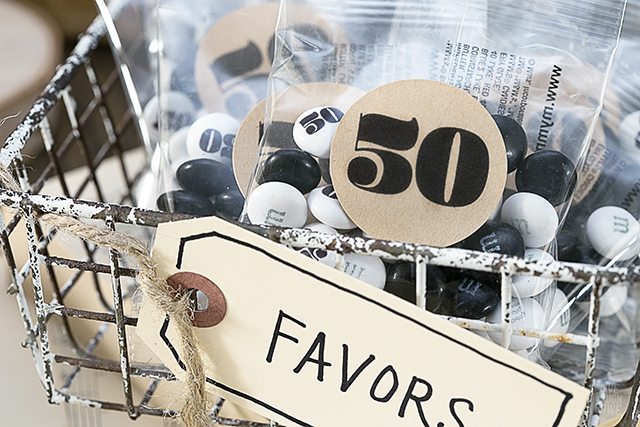 All kinds of fabulous, right?
Use a simple manila kraft tag for labeling.
For the labels on the actual favor bags, I used
1.5″ kraft circle labels. They made great
cupcake toppers too. A win-win if you ask me.
The other M&M's were placed in a vintage
wooden bowl with a metal scoop.
For these I went with Vintage 1967
(the year the birthday boy was born).
Fonts: LDJ Whale Tail + Christmas Numerals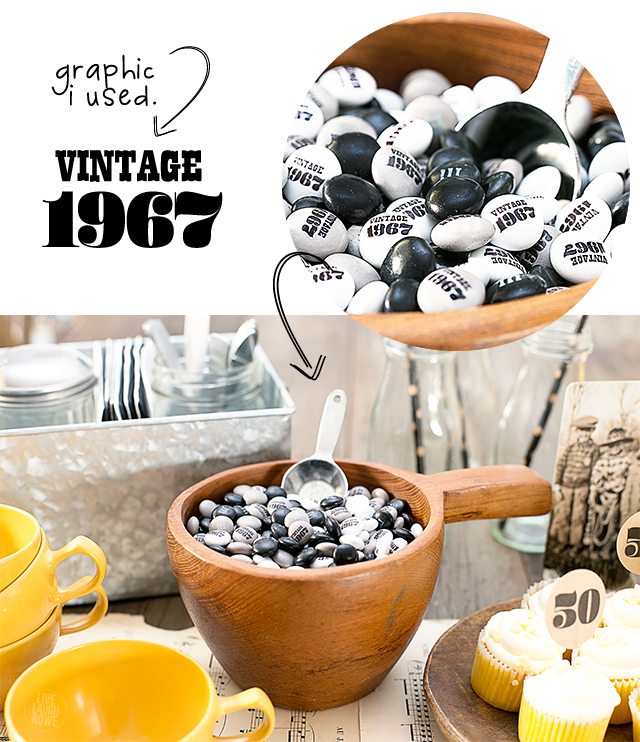 I think incorporating these M&M's into the party was all kinds of fabulous. Did you know you can create personal gifts with photos, messages and images printed on your favorite colored M&M'S? The options for personalizing any celebration or event are endless. MyMMs.com Birthday Idea Gallery is a great resource too!
MY M&M'S offers personalized packaging options to help show off your M&M'S in a special way. Be sure to visit MyMMs.com to upload a photo portrait, type a printed message, select from clip art images or upload your own. Pssst! You get to choose from 25 MY M&M'S colors too. What the wha? Visit MyMMs.com Birthdays today.
Another favorite for this party was the letters from friends and family that took you on a stroll down memory lane! Have everyone write a letter with a memory. Tie them together and present to the birthday guy/gal with appropriate labeling. For example, "Fifty years of Memories."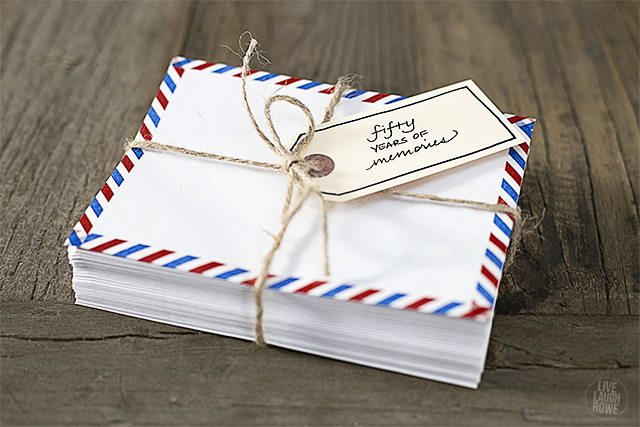 To stay within the vintage theme, I wanted to have some wine charms that would blend in. Tim Holtz to the rescue again. I found these vintage inspired philosophy tags (stamped metal tags) and turned them into wine charms. Brilliant, right? They fit the them perfectly.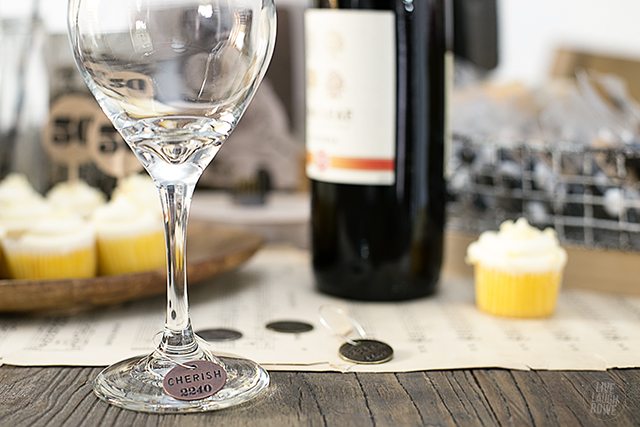 What do you think? Feeling inspired to host a
vintage themed birthday party? I think there will
definitely be more in my future!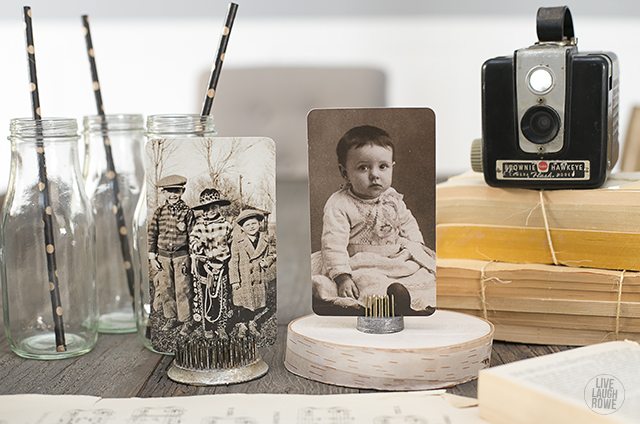 Cheers to birthdays and celebrations!
Linking up at Between Naps on the Front Porch.