Quench your thirst this summer with a Strawberry Pineapple Fizz. A fruity drink with a fizz? Yes, please!

Hello Live Laugh Rowe fans! My name is Katie and I am the blogger behind The Casual Craftlete. I'm a wife and stay at home mom to our almost three year daughter. I started blogging last July to give myself a creative outlet. Some of the things you will find me sharing are easy diy/craft projects, yummy recipes (mostly sweet treats) and my running journey and weight loss. That's where my name came from: Craft and Athlete. Everything I do is quick, easy and simple since I spend most of my day chasing around my daughter.
Strawberry Pineapple Fizz

I was beyond thrilled that fabulous Kelly asked me to guest post for her while she's away. Today I am super excited to share a refreshing summer time drink with you all! This Strawberry Pineapple Fizz is amazingly sweet and delicious. Enough about me, let's get to this spectacular drink!
Ingredients for Strawberry Pineapple Fizz
Let's start with the ingredients to make this Strawberry Pineapple Fizz. It's strawberry season here in Southern Illinois and my daughter and I just recently went to our local berry patch and picked up a flat of beautiful and delicious red strawberries. I just love strawberry season and I'd say I used about a quart of strawberries for this recipe.
I picked up a fresh organic pineapple from our local co-op. Then I cut the pineapple into bite size chunks. If I can't buy local then I try to buy the freshest ingredients I can. They really do make a difference in taste. To make the drink a fizz, you need one bottle of ginger ale. I also made a simple syrup to mix in with the ginger ale to make it extra sweet and oh so good.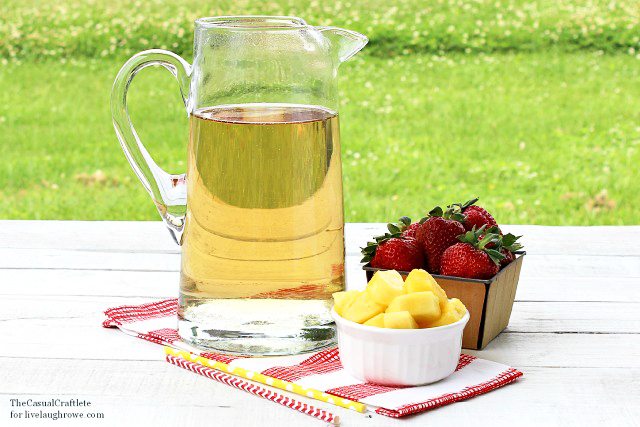 To make the simple syrup you combine two parts sugar to one part water. On the stove top in a medium size sauce pan, combine 2 cups granulated sugar and 1 cup water. Bring the mixture to a boil and boil about five minutes or until the sugar has completely dissolved. Then set aside and let cool. Once cooled, add the syrup to a large pitcher and pour in the bottle of ginger ale. Stir until well combined.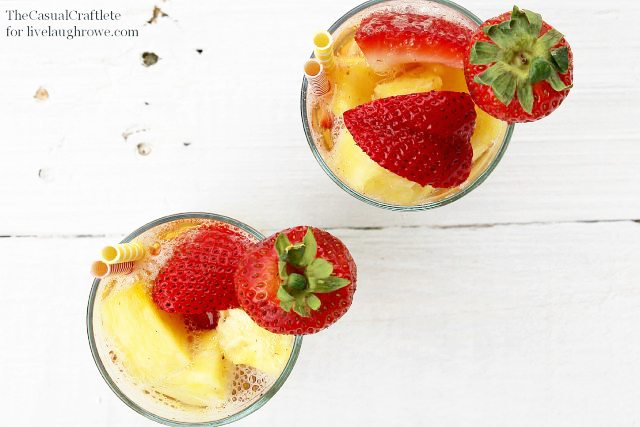 When serving, add the cut up strawberries and pineapple to tall glasses and pour the fizz liquid on top. Garnish with fruit and fun straws if you like. You want to make the drinks right before consuming them otherwise all the fizz will be gone.
Strawberry Pineapple Fizz
Ingredients
1

quart

strawberries

quartered

1

fresh pineapple cut into bite size pieces

1 - 2

liter

bottle of ginger ale

Simple syrup

2

cups

granulated sugar

1

cup

water
Instructions
On the stove top bring 2 cups of sugar and 1 cup of water to a boil.

Boil for 5 minutes or until the sugar has dissolved.

Set aside and let cool.

Once cool, add the simple syrup to a large pitcher and also pour in the 2 liter of ginger ale.

In tall glasses. place cut up pieces of strawberries and pineapple. Pour the liquid mixture over top of the fruit until the glasses are full. Serve immediately.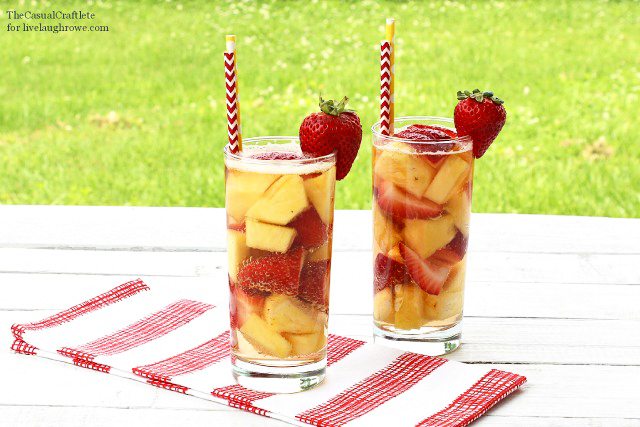 After drinking, you can simply eat the fruit right out of the glass. Drinks and dessert all in one! This is the perfect summertime drink! It goes great with grilled bbq food.
Thanks for taking the time to read and hopefully make my Strawberry Pineapple Fizz. Plus, a huge thank you for having me, Kelly! It has been a pleasure. I would love for you all to stop by and check out some more easy and fun ideas over at my blog.
You can also find me here:
Facebook | Pinterest | Twitter | Google + | Instagram