This post is sponsored by The Home Depot. See full disclosure below regarding DIH Workshop.*
It's time for another fabulous #DIHWorkshop project! (and the crowds go wild….) It's flower planting season and for those with a green thumb, it never hurts to have some extra space for planting, right? Sooo, today I'm sharing the tutorial for this Rustic Hanging Gutter Planter.
DIY Rustic Hanging Gutter Planter

Be sure to stick around until the end, because I have 20+ more hanging gutter planter ideas to further inspire you. Woo-hoo!
Pssst! Ladies, have you signed up to see an in-person demonstration at your local Home Depot store for Thursday, April 21st? Grab a girlfriend or two and sign up today!
Who's ready to start building? Let's do this!
Supplies for Hanging Gutter Planter:
1- 1 x 4 8 foot Cedar Board
White Traditional Vinyl Gutter
1 Set – White Vinyl K-Style End Cap Set (2-pack)
Manila Rope
1 set – Screw Eyes (#6 by Everbilt)
Chop Saw or Jig Saw
Staple Gun
Wood Glue
Drill
Yardstick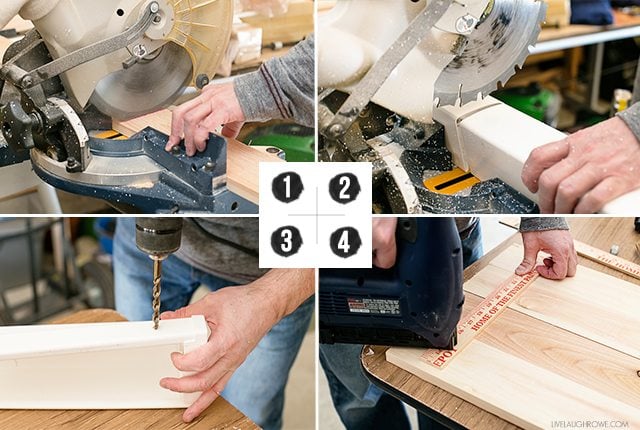 Step One: Cut Wood.
Cut four 24″ pieces for the back support from the cedar board (or wood of choice). I loved the rough look of this cedar board, it gave it an unfinished, worn look.
Step Two: Cut Gutter.
Cut a 10″ piece of gutter using chop saw or jig saw. Please Note: Our local Home Depot wasn't able to cut it for us, so be sure you have a vehicle that will allow you to transport a 12′ piece of gutter.
Step Three: Drill Holes in Gutter.
Attach end caps (for stability when drilling) and drill holes in the front and back of your gutter. Measure for accuracy, to be sure they all line up. We came in about 2″ from each side and, if using the manila rope, we used the 5/16″ drill bit.
Step Four: Securing back piece with braces.
Cut two 13″ pieces of wood for reinforcement braces to secure to the back of the four pieces of cedar board. I cut an extra yard stick we had in our garage — if you have scrap wood lying around, that would work perfectly too!
Apply a thin layer of wood glue and place, secure with staple gun.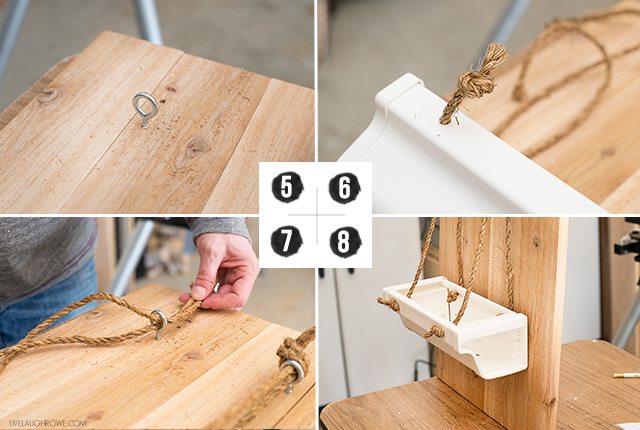 Step Five: Attach Eye Screws.
Mock up your hanging planter to measure where you'll be placing your eye screws and attach.
Step Six and Seven: Cut and Thread Rope.
Cut four 24″ pieces of manila rope and insert into each of the drilled holes. I chose to keep my knots on the outside of the gutter on the front to add a little more interest (which I LOVE).
Once all of the knots are made in the gutter, you'll pull the ropes up and through the eye screws and knot again.
Step Eight: Tweaking.
Lift your hanging gutter planter and be sure that everything is level. The genius part of the ropes is that it's an easy fix if they're not.
All that's left now is to add your plants. Since you can't really add a drainage hole, I chose succulents. I've read that having a drainage hole is recommended; however, I've had success without them — so that's why I chose succulents. I would recommend using plants that don't require excessive water (just my opinion though).
After adding plants, flowers or succulents — you're ready to hang. I used a hercules hook (wink).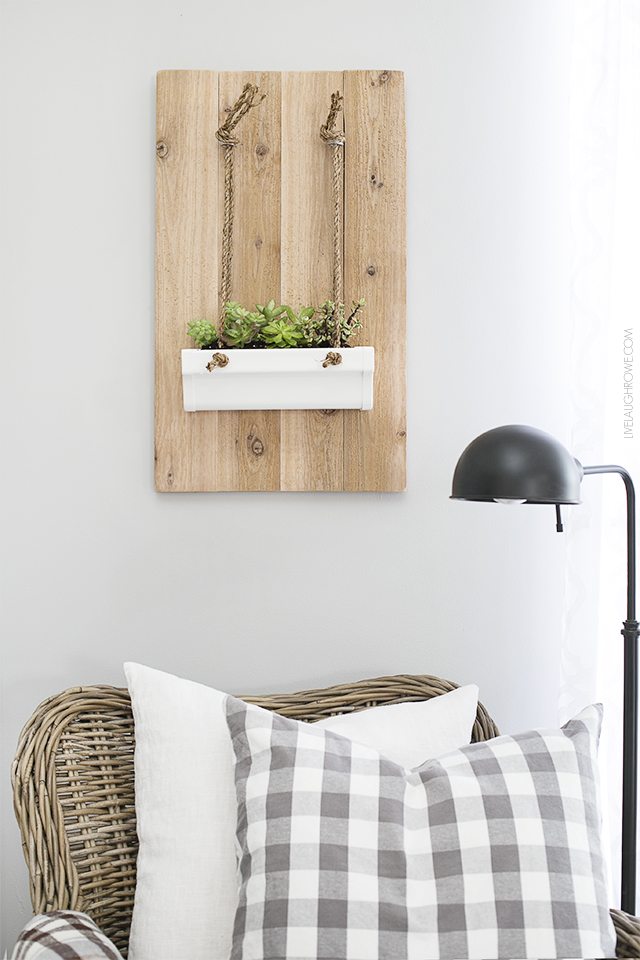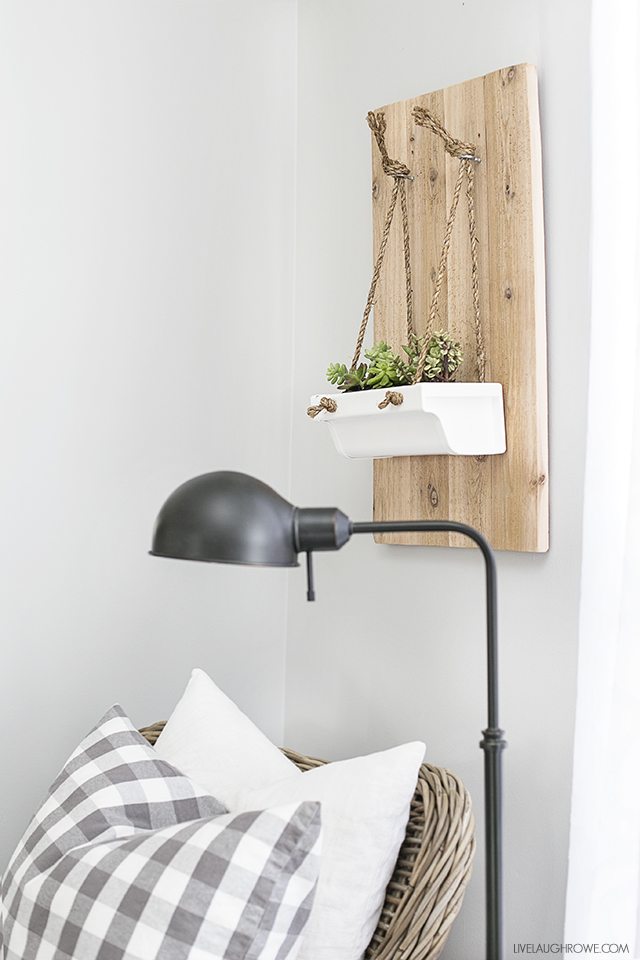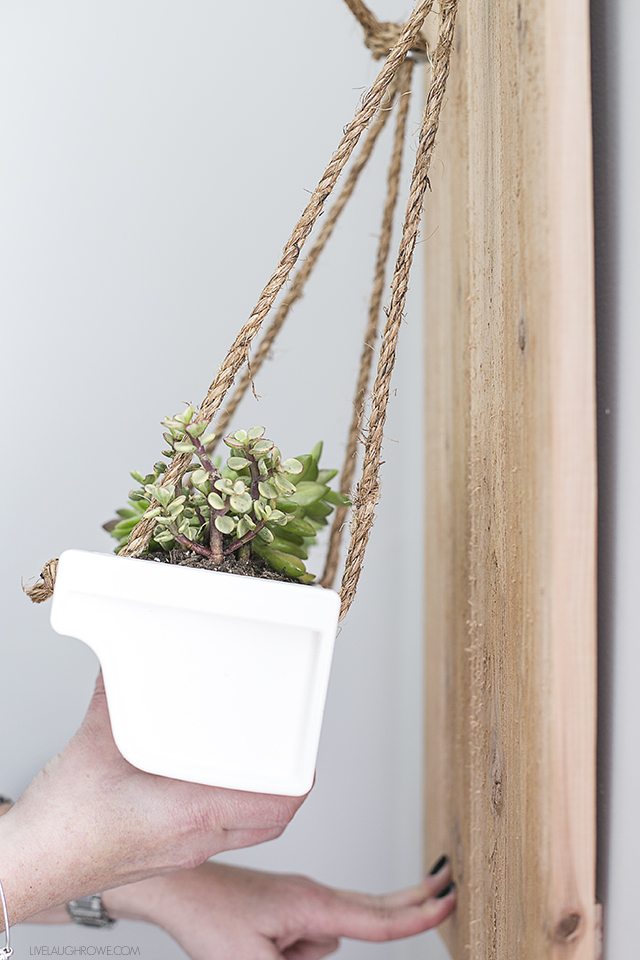 I'm in love! What do you think? It's simple, yet makes a great statement piece — and I think this would look great on a porch, deck, fence, etc. I have a very limited outdoor space, so taking the original project and putting my spin on it was a lot of fun.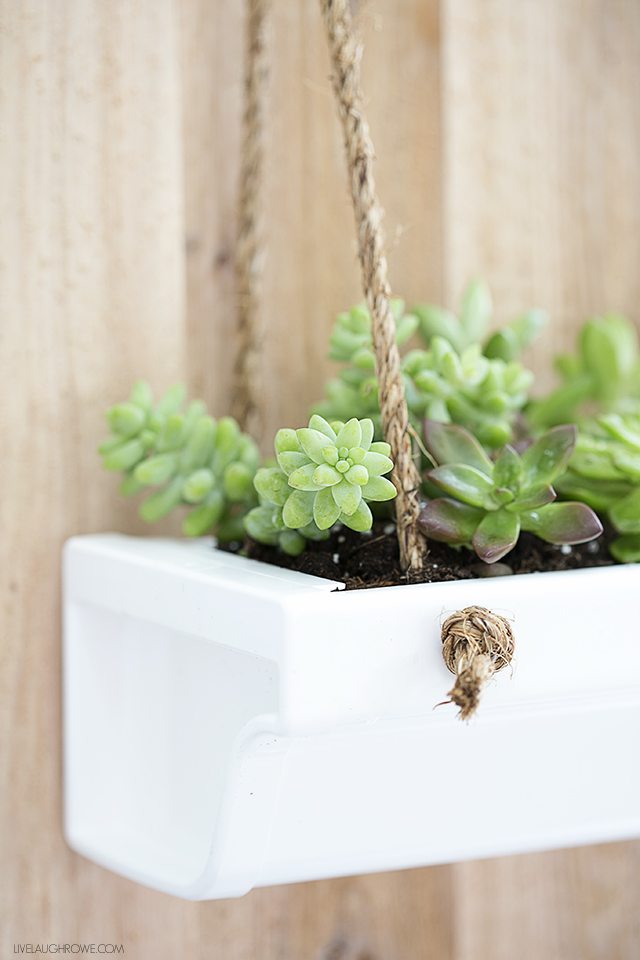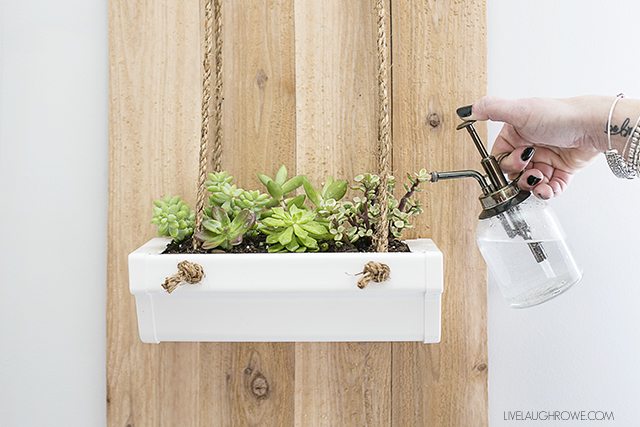 Being this is a virtual par-tay, each of the DIH Bloggers asked four friends to join us! Here is what my team put together (and a BIG thanks to Jenn, April, Aniko and Shonee for joining me):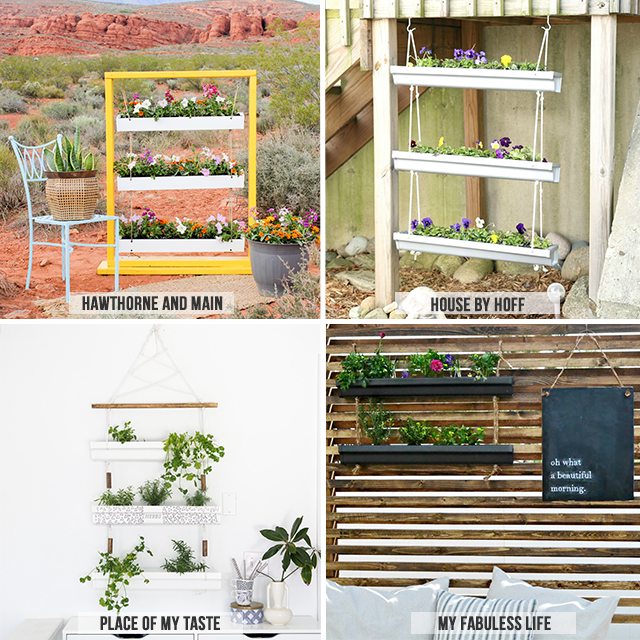 Hawthorne and Main | House by Hoff
Place of my Taste | My Fabuless Life
Here's a reminder of the original project.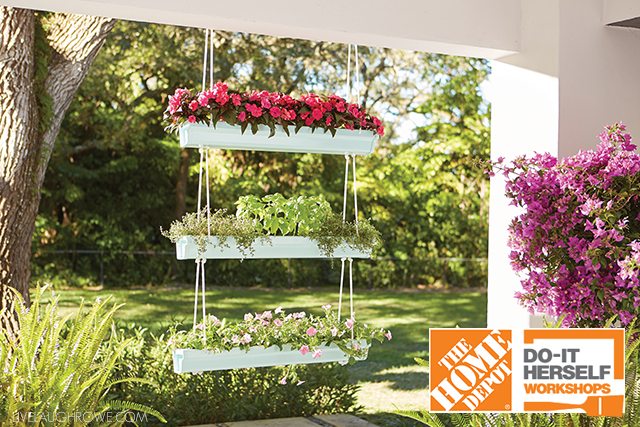 Now that you're feeling inspired — are you ready to sign up for the April Workshop and make your own Hanging Gutter Planter? Just a quick reminder, The Home Depot's Workshops are designed to provide a mix of associate-led instruction, demonstration, and some hands-on learning. The workshops are also for do-it-yourselfers of all ages and experience levels! Materials can be purchased to make your own project too. For more information, contact your local Home Depot store. Register today!

Be sure to visit with me here too:
Facebook | Instagram | Pinterest | Twitter |Google+
Linking up to Between Naps on the Porch
*The Home Depot partners with bloggers such as me for DIH Workshop program. As part of this program, I received compensation for my time. They did not tell me what to purchase or what to say about any product mentioned in these posts. The Home Depot believes that consumers and bloggers are to form their own opinions and share them in their own words. The Home Depot's policies align with WOMMA Ethics Code, FTC guidelines and social media engagement recommendations.