Happy Hump Day! We've made it half way through the week. Woo-Hoo! How is your week going? It's been a busier week than usual, outside the house, with appointments, engagements, etc. How is the weather in your neck of the woods? Recently it's been hot-hot-hot here in St. Louis. I stay nice and cool in the house if at all possible. I get super excited if we're going to be in the 80's. Lately it's the 90's with extreme humidity; however, the next few days are supposed to be nice. YAY! If my windows are fogged up, I know to stay put. HA! Anywho, I hope your staying cool and enjoying your summer. It's hard to believe that it's almost over — lots of school preparations are already in full swing. CrAzY!!

Today I'm sharing the every day, run of the mill casual outfit that I would throw on for errand running or a lunch/dinner engagement with the hubs, sister or friend. It's little patriotic in color, right? LOL. I should have planned this outfit for my July 3 WIWW post. Anywho, it's super comfortable and I likey.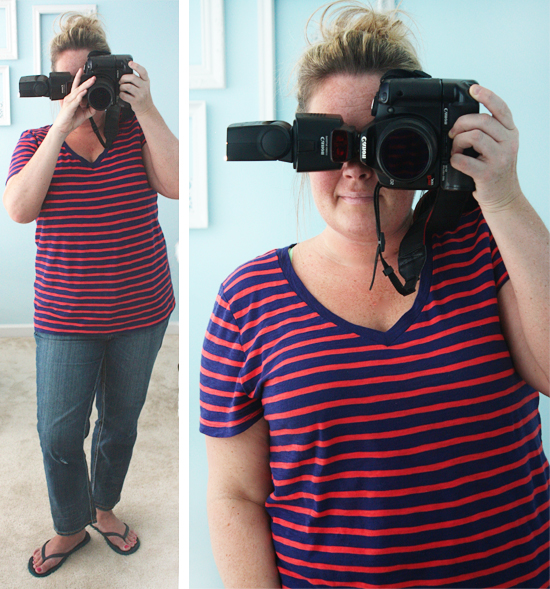 T-Shirt: Gap Outlet
Jean Capris: TJ Maxx
Flip Flops: Old Navy
Stay fabulous, friends!
Have a fantastic end to your week.
.
I'll be linking up over at WIWW with The Pleated Poppy.
Subscribe to Updates | Like on Facebook | Follow on Pinterest