Familiar with Grove Collaborative? It's my new shopping buddy for household essentials — and I'm putting it to good use this summer!
Summer is one of my favorite times of year for cooking — or eating, at the very least. Colorful eggplant, juicy tomatoes, and bright berries from the garden are as delicious as they are nourishing. Everything tastes better al fresco. And simple grilled meals or fresh salads leave more time for sipping ice tea on our deck.
One thing that I don't enjoy during the summer: shopping for household essentials (womp womp womp). Who wants to run to the store when you could be unwinding outside? And you can't exactly pick up dish soap at the farmer's market. So, in the spirit of making everything more enjoyable this summer, let me introduce you to Grove Collaborative.
Mrs. Meyer's Cleaning Products from Grove Collaborative

Grove is a subscription service that delivers natural cleaning, home, beauty, and baby products right to your doorstep, on your schedule. It's like having a brilliant personal assistant who keeps your home stocked up on the essentials while you relax and soak up the sun.
SPECIAL OFFER COMING RIGHT UP….
When you sign up for Grove right now, you'll get this Summer Chef's set FREE with your first order of $20. Here's whats included:
Free Mrs. Meyer's Hand Soap
Free Mrs. Meyer's Dish Soap
Free Mrs. Meyer's Multi-Surface Spray
Free Grove Collaborative Bubble Up
Free Shipping & 60 Day VIP Trial
(Already a subscriber? No worries. Keep reading…)
I also adore this Grove Collaborative Bubble Up, which is a spring-loaded soap dish and scrub brush. It looks cute on my counter, and it's such a convenient way to tackle kitchen messes.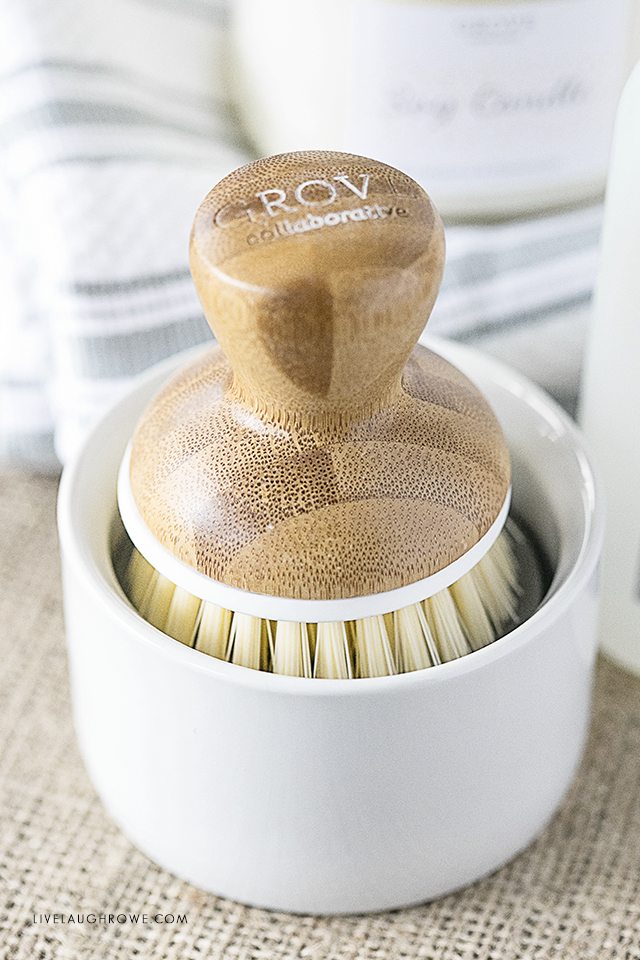 After all, that's what Grove Collaborative is all about: making creating a healthy, beautiful home effortless and affordable. I've been using Grove for just about six months now, and I still look forward to my shipments.
Treat yourself to this FREE Summer Chef's Set and give Grove Collaborative a try — I promise you'll never go back! As a bonus, you'll be signed up for the free 60 day VIP trial when you place your order. That means free shipping, free gifts, price matching, and personal service.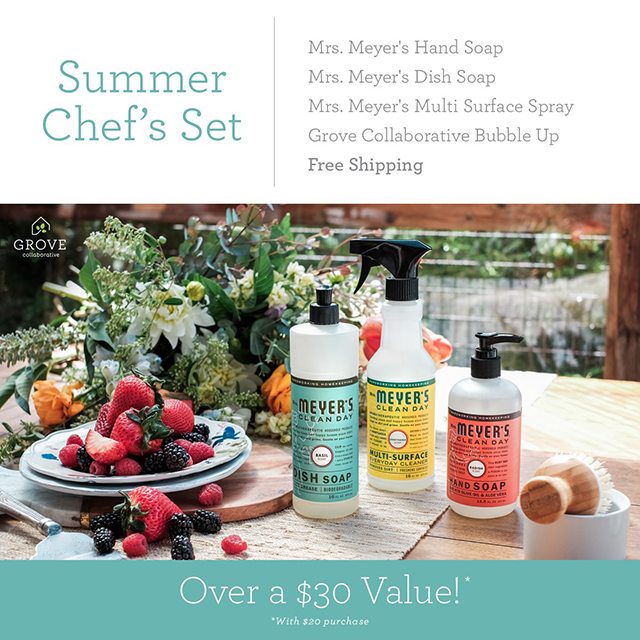 Yes, all of the listed items can be yours for FREE if you're a new customer. These are some of my favorite products — and everything you need to make cleanup effortless, from salsa to a full blown summer barbecue.
PLUS, right now when you sign up for Grove Collaborative, you'll also get a free 60 day VIP trial. For 60 days, you'll save even more with free shipping, free gifts, price matching, exclusive sales and personal service!

Already a Grove customer? We've got you covered too! You'll get a free set of Grove Walnut Scrubber Sponges. Grab your FREE Walnut Scrubber Sponges NOW!

While these freebies are a great incentive to join Grove Collaborative — you're sure to find other fabulous products that will soon become your favorites. Some of my favorite products include the Eucalyptus and Spearmint Soy Candle, the Eucalyptus Mint Shower Spray and the Lemon Verbena Foaming Hand Soap (just to name a few)!
I'm OBSESSED with this candle… it smells amazing!
Don't spend time running to the store for dish soap when the sun is shining. Grab your Summer Chef's Set and try Grove Collaborative now!
Here's how it works:
Sign up for Grove Collaborative and receive the Summer Chef's Set for free when you sign up!
To receive this offer, your order needs to be a minimum of $20. Choose the combination of products and scents you love and receive your first box within a few days.
You made it! Click Finish & Pay and place your order.
Additional Savings Tip: Once you've submitted your Grove order, be sure to sign up for the free 60 day VIP trial. You'll get free shipping, free gifts, price matching, exclusive sales, and personal service.
Quick re-cap: New to Grove? Sign up and get a free gift plus free shipping with a $20 purchase. Current Grove Member? Add the free set of Grove Walnut Scrubber Sponges to your cart.
*Please note that Grove currently does not ship to Canada, Hawaii, or Alaska.