Happy Wednesday, friends. Today we have special guest with us! A dear friend of mine who has proven to have faith beyond measure. Be inspired as you read this post adapted from Unshakable: Finding Faith to Weather the Storm by Nancy Backues.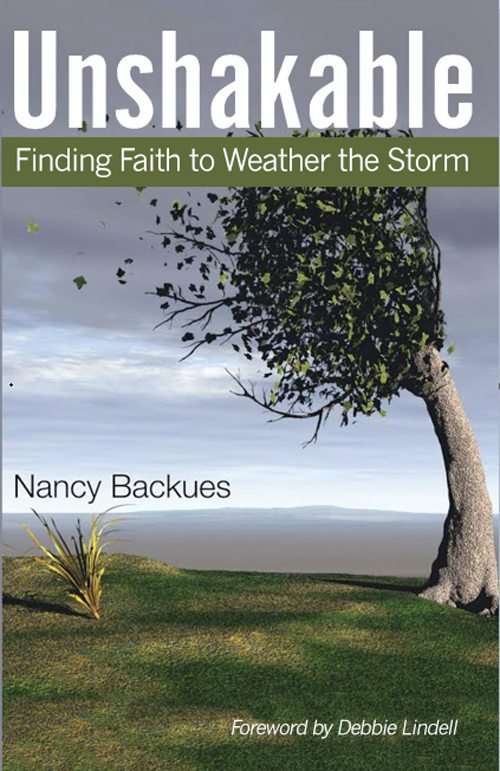 He burst into the room with a flurry and an entourage—the flurry a result of his hectic schedule, I'm sure, and the entourage a result of his vast expertise. After all, when one is The Specialist in a given field, other medical personnel want to learn how you do what you do.
With introductions and pleasantries out of the way, he cut straight to the chase: "The type of cancer you have is non-curative. We need to start chemo right away. Hopefully, we will be able to find something that works and keep it from spreading."
I had beat cancer once and lived three years cancer free, but now I faced the reality of my greatest fear—the cancer had not only returned, it had spread. I wasn't sure I was up for the fight again.
Wait. Did he say "non-curative?" As in, there is NO CURE?!
There had to be some mistake. I was a relatively healthy, 40-year-old, mother of two. Sure, I could stand to lose a few pounds, but my blood pressure, my cholesterol, all my numbers were good. How could I have a disease considered non-curative?!
There were no statements like, "You're gonna beat this." "It looks very positive." Or, "We are hopeful." He simply blurted out those words, "non-curative," then launched into a barrage of information: recommendations of treatment, names of various chemo drugs along with their potential side effects, treatment schedules, options for clinical trials, etc.
I struggled to wrap my mind around all the new information.
Then I asked the question no one should ever ask of an oncologist, "When you say 'non-curative,' that means…"
He simply stated: "You'll be on some type of chemo for the rest of your life."
Suddenly, time froze around me. The Specialist continued to talk, but I couldn't hear anything he said. I sat in shock, my mind focused on his words: "Non-curative; chemo for the rest of your life."
That meant this doctor…the one who was supposed to be The Specialist…didn't know how to get rid of this type of cancer. If he didn't know what to do, what hope did I have?
My husband and I left feeling overwhelmed and drowning in a sea of information we didn't understand. There were no words to express our thoughts or emotions, so we quietly, numbly climbed into our vehicle and headed home. Somewhere between the hospital and the highway, God leaned in and whispered, "Do you think I'm big enough?"
In that moment, decades of reading, studying, and meditating on God's Word flooded back. All the flannel board stories I had heard as a child, all the late-night devotions, and every sermon I'd heard over the years started to pay off. Something "clicked" inside me, and I suddenly realized: my God is bigger than cancer.
The thought of facing cancer in my own strength left me hopeless, because I knew there would come a point when my strength would fail. Relying solely on my doctors and their knowledge left me desperate, because while their knowledge is vast, it is not limitless.
But facing anything—even cancer—with God brought me hope. Because for the One who spoke light into existence and knit together every cell of my body, cancer is no big thing.
As we drove home that afternoon, I suddenly realized the God I pray to for healing is the same God who created our universe out of nothing. (Genesis 1)
He's the One who blew back the waters so an entire nation could cross the Red Sea on dry land. (Exodus 14)
He's the One who helped a young boy with a few rocks defeat a seasoned soldier. (1 Samuel 17)
He's the One who healed a woman of a 12-year medical battle with a single touch. (Mark 5)
He's the One who called Lazarus—who'd already been dead four days—from the grave. (John 11)
And He's the One who walked out of the tomb after three days, defeating sin, sickness, and death. (Matthew 28)
These are more than stories to spark the imagination of children in Sunday school. They are moments when God stepped into the everyday lives of ordinary people…and miracles happened.
God is infinitely bigger than your biggest problem.
~Mark Batterson
While I was shocked at the diagnosis, God was not.
While doctors are baffled by this rare form of cancer, God is not.
This same God knows your situation, too. He sees whatever you face today. He is not shocked by it. He is not scared or intimidated by it. He is (more than) big enough.
God can do anything, you know—far more than you could ever imagine or guess or request in your wildest dreams! (Ephesians 3:20, The Message)
You can find Nancy around the web here:
Blog | Facebook | Twitter | Pinterest

Read more by purchasing Unshakable: Finding Faith to Weather the Storm.

Nancy Backues is an author, speaker, wife, mother, and two-time cancer overcomer. She lives in Missouri where she relies on God's grace and good coffee to live out authentic faith in the midst of a mostly messy life. Read the rest of her story in Unshakable: Finding Faith to Weather the Storm.