Happy Hump Day! I don't know about you, but I LOVE Wednesdays. It means we made it halfway through the week -and- Friday (the weekend) is almost here, baby! Woo-Hoo!
As you may or may not know, I'm officially in my fourth year of blogging (learn more about me and the blog). I have learned an incredible amount of information, collaborated with talented bloggers and some of my favorite brands! It's been a true testimony that sometimes the unexpected can bloom into much more than you could have hoped or dreamed!
There is never a lack of excitement when you know you're getting a little extra exposure in the press (magazines, websites, etc) either. A couple of weeks ago, I shared on Instagram that I had my first tutorial published in a book! Last year I was contacted by the publisher about having my DIY Paper Spider Mums tutorial published. I had a lot of questions before even considering and eventurally said, "sure, let's do this." They said I would receive a complimentary copy, but I honestly thought I would forget or they would. I knew the publication wouldn't come into fruition over night… #duh
Soooo, you can imagine my excitement when I received the book, Design in Bloom, in the mail recently! A two page tutorial and on of my spider mum pictures on the back cover. Flattered, happy, blessed were just a few of my emotions. Here are a couple quick snapshots that I thought I would share.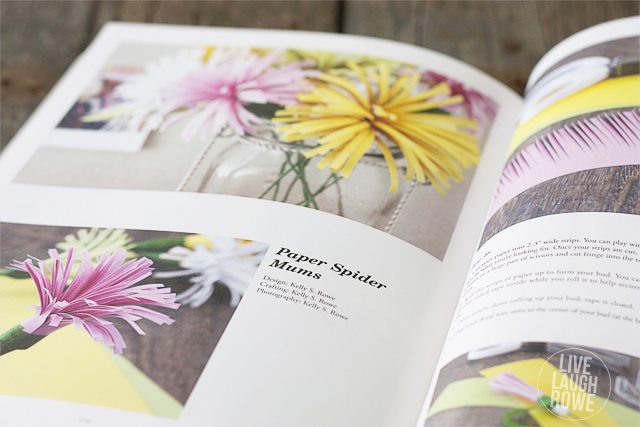 And, in all honesty, this book is packed with great botanical crafts, many of which I'd like to try my hand at. If interested, purchase your own copy of Design in Bloom, it would make a great gift! It makes a great coffee table book too!
Thanks for letting me share, friends! Here's to celebrating another milestone for me and my blog. Hugs!
Care to stay in the loop? I'd love to have you!
Catch me snapping + sharing pictures over on Instagram.
Subscribe to Updates | Like on Facebook | Follow on Pinterest
https://betweennapsontheporch.net