This concrete DIY project is sponsored by The Home Depot. See full disclosure below regarding DIH Workshop.
This past weekend I tackled my very first concrete DIY project. I was kindly reminded of that old saying, "If at first you don't succeed — try, try again." And, well, three times is a charm (sigh).
However, I finally completed a concrete serving tray that I felt was suitable enough to share. BUT, ladies, if you can attend the June DIH Workshop, I would HIGHLY recommend that you do. Concrete is finicky and you may find yourself a little frustrated, so attend the workshop where you can get some tips, and maybe you can even make one with the help and support of your local Home Depot experts (each store hosts the event differently, feel free to call and ask). Mmmmmkay?
I have shared a very thorough tutorial below of what I did and lessons learned. Regardless of my frustrations, I'm in love with my tray!
Concrete DIY Project

Supplies for Concrete Serving Tray:
1″ x 3″ x 8′ Common Board
2′ x 2′ x 23/32″ Plywood, sanded
Rapid Set Cement (10 lb. or a 25 lb. box for trial and error)
(2) 4-7/8 in. Zinc-Plated Light Duty Door Pull, Zinc Plated Finish (I used black)
(2) #8-32 x 1/2 in. Flat-Head Phillips Screws and Screw Nuts
Vinyl Bumpers
Mixing Container
1-1/2″ screws (approximately 10-12)
Trowel with Wood Handle or Heavy Duty Stir Stick
Power Sander
Sanding Block
Ryobi One+ 18-Volt Lithium-Ion Drill and 1/8″ drill bit
18 -1/2″ x 10″ x 1/8″ of plywood (optional, used for base)
Cement Glue (optional, only necessary if you attach optional plywood)
Cut list:
(2) 11-1/2″ cuts from common board, for each end of mold
(2) 18-1/2″ cuts from common board, for each side of mold
(1) 20″ x 11-1/2″ from plywood, for bottom of mold
Size: 18-1/2″ x 9-1/2″
Cost: Approximately $30.00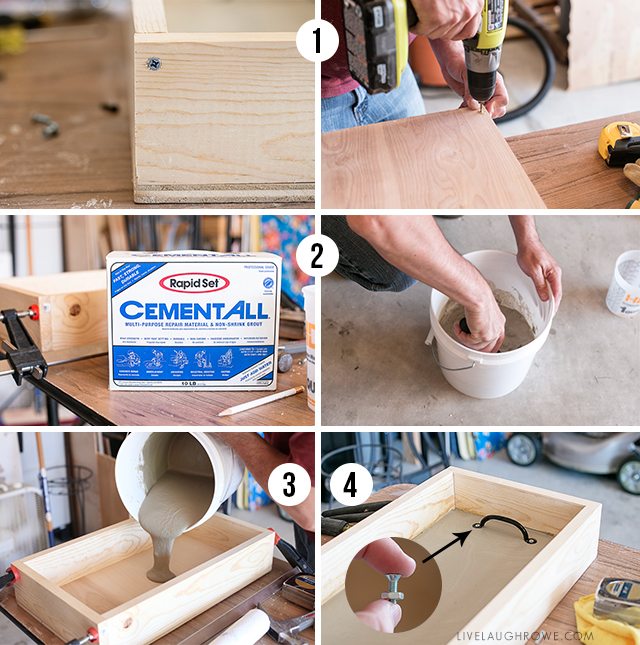 Step One: Build the Mold
Make all the appropriate cuts from common board and plywood using circular saw or table saw. Use sanding block to smooth edges.
Lay (2) 18-1/2 sections vertically on the table. Then lay the (2) 11-1/2 sections horizontally at the top and bottom of each of the 18-1/2 sections to form a rectangular mold.
Pre-drill holes using the 1/8″ drill bit and secure the frame with screws. Place plywood on top of the frame and attach with screws.
TIP: Another option for assembling the mold is to use screws on the bottom and use a clamp on either side of the mold (pictured above in #3). We did it both ways, since we had a couple of fails.
Step Two: Cement
Mix 80 oz. of cement with 20 oz. of water in a mixing pail and stir well. The cement should have the consistency of cake batter.
Pour cement into the mold and distribute evenly using trowel or shaking the mold. This filled my tray approximately 3/4″ inch. Adding a little extra water seemed to help the cement settle and level in the mold much nicer.
Allow to set for 2-3 hours. We removed the mold on one tray after an hour and a handle fell off. I let the tray sit longer after that experience, so just a heads up.
TIP: Generously apply cooking spray to the bottom and sides of the mold for easier removal of the mold after the cement has set.
Step Three: Prepare Handles
Prepare pull handles for insertion into cement. Place the screw into the top of each handle and attach a nut to the bottom.
Insert into the cement approximately 1″ from the side and centered, 10-15 minutes after the cement was poured. Push from the top of the handle and screw.
Step Four: Remove Mold
Once the cement has set, remove screws from plywood to remove the mold from around the tray. Start with side pieces first, then remove the screws from the bottom pieces. If possible, have someone hold the tray by the handles and tap around the tray until the plywood releases.
Step Five: Sand the Tray and Attach Bumpers
Use the power sander to smooth the sides, corners and top of the this concrete DIY project.
You're technically done! Yahoooooo…. As you can see, I chose to use the 18 -1/2″ x 10″ x 1/8″ piece of plywood that I mentioned was optional (above) as a base. I stained it with Minwax Early American stain. Attach the plywood to the cement with cement adhesive (or just use as an accessory). Either way, I love this addition! It really adds a little extra flair.
NOTE: Did you notice the top of the tray has a glossy look to it? That's from using the power sander on it. It made it super smooth and shiny. LOVE!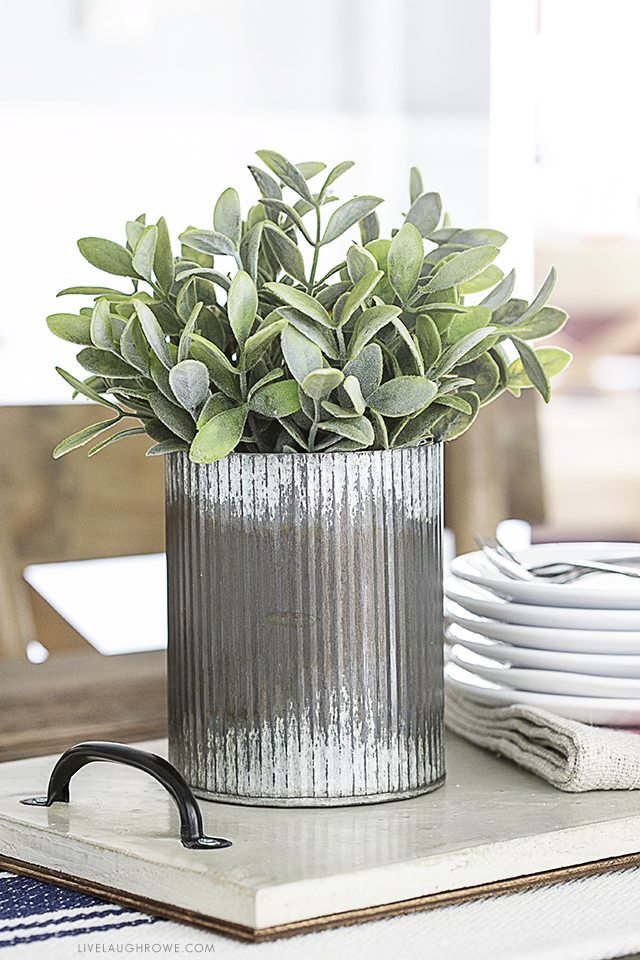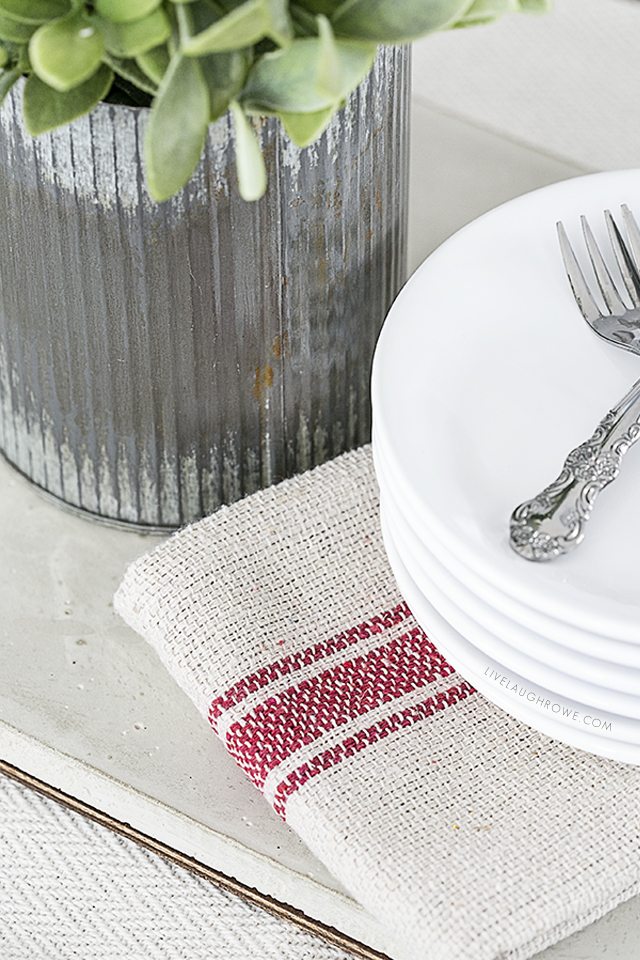 As you can see, there are plenty of imperfections, but they are beautiful imperfections (in my humble opinion). I think the black and gray feel very industrial. What do you think?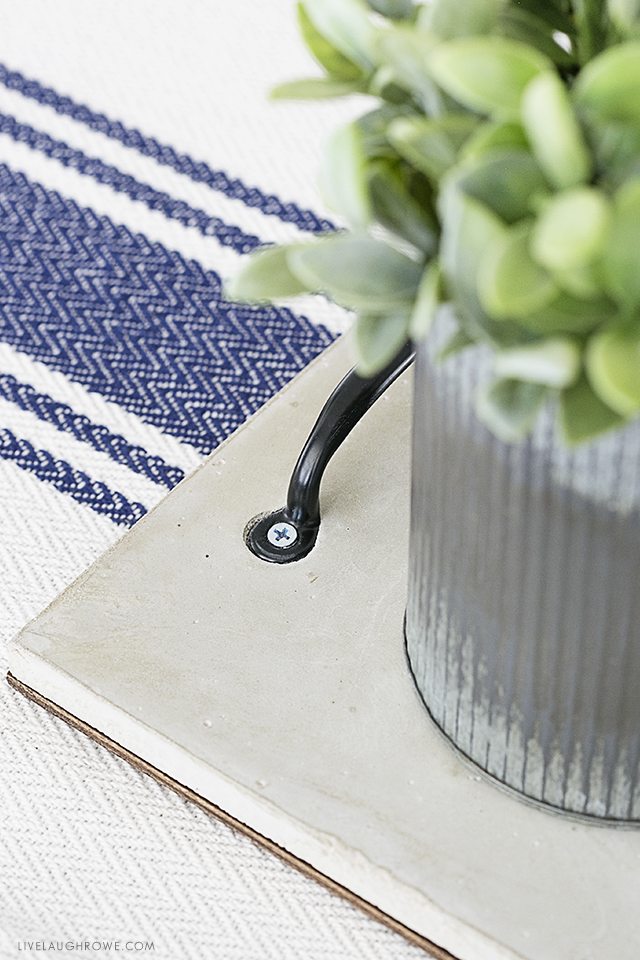 Check out these versions of the June Concrete Serving Tray too:
DIY Huntress | The Turquoise Home | Inspiration for Moms
Shades of Blue Interiors | Domestically Speaking | Remodelando La Casa
Sawdust 2 Stitches | Petticoat Junction | Cherished Bliss
Here's the original DIH project, which inspired mine: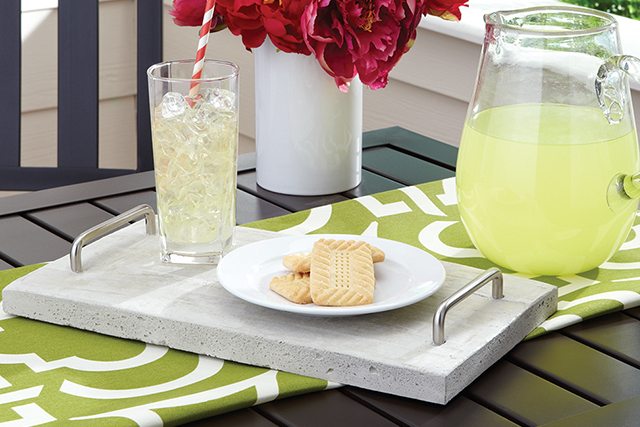 Feeling inspired? Be sure to Save the Date and register for the upcoming DIH Workshop on Thursday, June 15th at 6:30 p.m. Sign up to join your local Home Depot!
Take a look at all of my other DIH Projects too! They're great for all levels of DIH-ers (wink).

Be sure to visit with me here too:
Facebook | Instagram | Pinterest | Twitter | Google+
*The Home Depot partners with bloggers such as me for DIH Workshop program. As part of this program, I received compensation for my time. They did not tell me what to purchase or what to say about any product mentioned in these posts. The Home Depot believes that consumers and bloggers are to form their own opinions and share them in their own words. The Home Depot's policies align with WOMMA Ethics Code, FTC guidelines and social media engagement recommendations.