Happy Hump Day! It's been a couple weeks, but I finally found my inner fashionista and pulled something together to share. YAY! There's something about Wednesdays that make me incredibly happy… I'm guessing it's probably the fact that half of the 'work' week is over! Can I get an amen? How is your week going so far? Mine has been busy, but good. The cooler air has been settling in this week, I just hope it sticks around for more than a few days. I just love the cooler, fall temps. I love throwing on a sweater or sweat shirt and sitting on the deck with a cup of coffee or a glass of wine. It truly is pure bliss! Blazes and/or jackets seem to be quite popular this season too!

I probably never mentioned this before, but at BlogHer a couple of years ago, I met Christian Sirianos sister, Shannon. She blogs over at thirstyrichmond. She was as sweet as can be and I honestly never put her last name together with Christian until she said something. Anywho, he's a pretty fabulous designer who won Project Runway winner, Season 4. I was recently making one of my Sam's Club runs and heard this Christian Siriano striped jacket calling my name. I smiled when I saw it was a Christian Siriano piece and, well, the price of $19.99 couldn't be beat.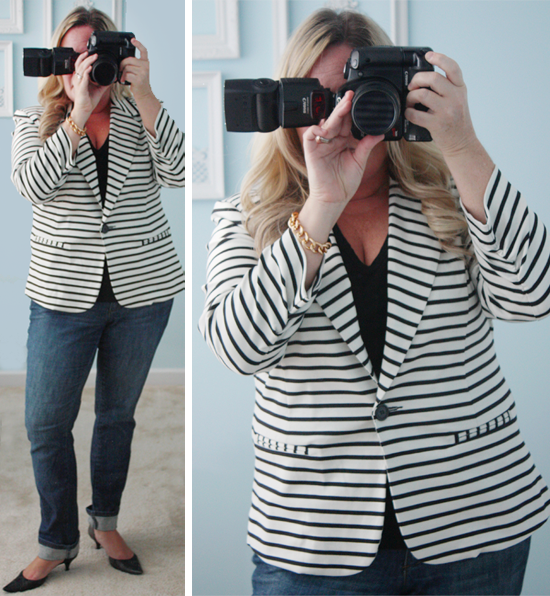 Shirt: Gap
Jacket: Christian Siriano
Jeans: JcPenney
Shoes: Nine West
Bracelet: The Style Hatch, store closed
Stay fashionably fabulous!
.
I'll be linking up over at WIWW with The Pleated Poppy.
Subscribe to Updates | Like on Facebook | Follow on Pinterest