I don't have a recipe, a craft or any DIYs to share today. I have to be honest, the past month has been a rough one. Physically. Emotionally. Mentally. I'm just tired, overwhelmed, exhausted and feeling a little burned out. I rarely share a lot on the personal side of life, but when I do, I like to encourage readers who might be at a similar place in their own lives. This is real life.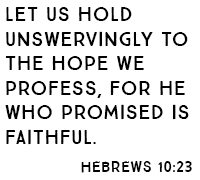 If any of you have been around long enough, you know that we have traveled the journey of infertility*. It's a painful journey and one that is proving to have a sad ending (more on that at a later time). I continue to trust the Lord and pray that His perfect will be done. Back to School is always a hard season for me — I shared a little bit from my heart in 2013. Anywho, between endometriosis, impingement syndrome in my right shoulder and recently being diagnosed with an under-active thyroid — I am tired and desperate to feel better soon.
Ironically my mom sent this scripture to me via text yesterday, "Let us hold unswervingly to the hope we profess, for he who promised is faithful." Hebrews 10:23 Amen. Through the good and the bad, he is faithful.
I'm not one to just lie down and have a pity party. Have I cried from the pain and exhaustion? You bet! However, I know the Lord will give me strength and in all reality life goes on. Obviously, I'm still working and even starting new adventures. Just this week I started volunteering in the church office where we attend. This will get me out of the house for a few hours each week and I'm excited to give of my time, even if it is in a small way.
With all that's been going on, I've become more aware and appreciative of the support system in my life — without them, I would most likely crumble. I'm thankful for my Lord, he is my refuge and my strength each and every day; however, I need the hugs, cheerleaders and prayers of my family and friends too. I'm grateful for blog besties who "get me" and for those who invest (and believe) in me. I'm overwhelmed with gratitude that I can call my mom and dad and ask them to pray and believe with me on any given day. I'm blessed to have a husband who listens to my crazy dreams, nagging requests and yet he embraces me every day with unconditional love. I couldn't be more thankful to have my twin sister here in St. Louis with me too. Having her around has kept me sane in a city where I often feel so very lost. These people are my clan, my network, my tribe and family! I love this statement:
Call it a Clan. Call it a Network.
Call it a Tribe. Call it a Family.
Whatever you call it, whoever you are,
You need one. -Jane Howard
I need them! And so do you… So, when things just feel overwhelming and the odds just don't seem to be in your favor — say a silent prayer of thanks for your support system, your friends, family, spouse, pastor, etc.
Friends, if you don't have one — you NEED one. I'll say a prayer that those relationships present themselves to you.
I loved this enough to share it as a printable. Hang it somewhere to remind you that you have a clan, a tribe, family standing alongside you during this journey we call life. It's not always easy, it has it's ups and downs — but you're not alone!
*Please Note: All printables and downloads designed by Live Laugh Rowe are for PERSONAL USE ONLY. Please do not alter the file or claim it as your own. This file is not intended for resale, nor are the printed versions of this file.
*Please be thoughtful in your comments and know that we have considered every possible avenue (adoption, foster parenting, etc) and underwent an IVF procedure. These are very personal and difficult decisions to make. I know that when friends, family, readers make a suggestion, you're all doing it with good intentions, but that's not what this post is about. It was about sharing from my heart and asking for your prayers — not solutions.