Jelli is back with us today from Jelli Bean Journals, sharing a delicious chocolate dessert! Grab a napkin, you might do a little slobbering before the end of the post! Enjoy.
Once you get a forkful of this hot fudge brownie pie, your birthday may never include cake again!
Hot fudge sundae pie, a recipe passed down from my aunt, is a phenomenal chocolate indulgence with all the flavor, texture, and decadence of a hot fudge brownie sundae that's so low-fuss that absolutely anyone can make it!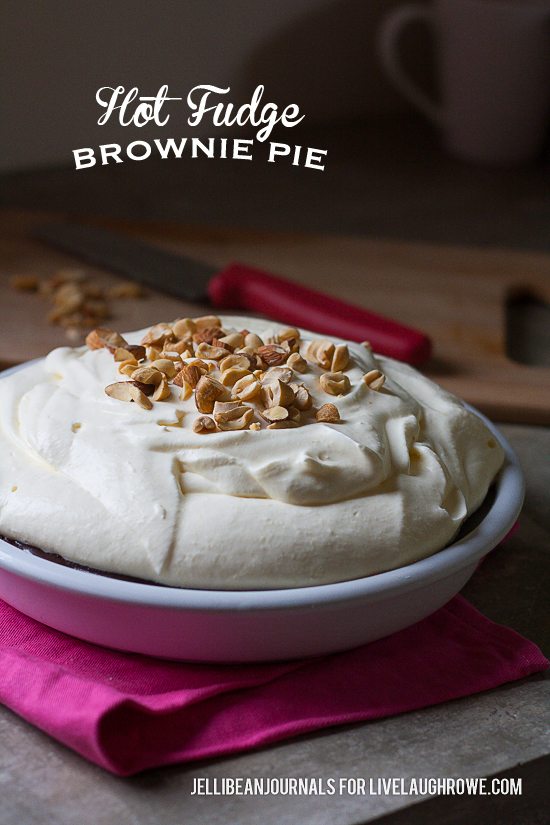 Who doesn't love a one-bowl recipe? The brownie base of this indulgent homemade brownie pie is is stirred together in a jiffy, no fancy techniques or equipment necessary. After it bakes, we'll smooth on a thick, rich coating of hot fudge sauce that seeps into the pie making it oo la la lush. We'll smother the hot fudge brownie pie with a tall layer of velvety whipped cream and a sprinkling of nuts and gather round to dig in!
Let's do it!
Hot Fudge Brownie Pie
Ingredients
Instructions
Preheat oven to 325F. Grease an 8" round baking pan.

In a large bowl stir together sugar, flour, cocoa, and salt. Mix in vanilla, butter, eggs, and 3/4 cup chopped nuts, if using, until combined and scrape into baking dish.

Wash your mixing bowl and place it in the freezer along with the beaters (for the whipped cream).

Bake 25-30 minutes or until a toothpick inserted removes with fudgy, rather than wet crumbs. While cooling, microwave fudge ice cream topping until it's thin enough to spread. Poke holes in warm pie and spread fudge over top. Cool completely.

In chilled bowl combine cream and powdered sugar. Whip to stiff peaks and spread over pie. Scatter remaining nuts over the top.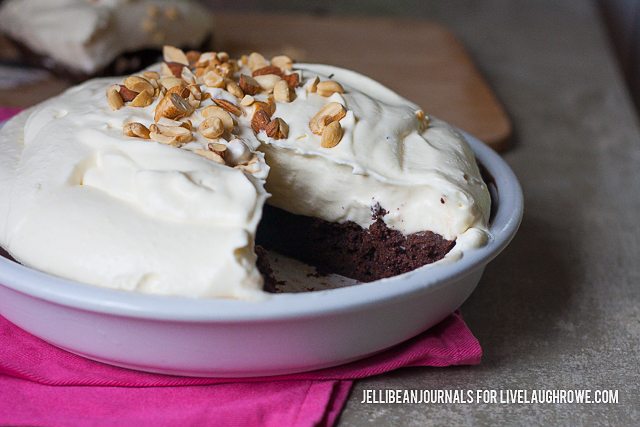 If you're a chocoholic like me, you're gonna love these recipes too. Check them out!
Chocolate Mint Brownie Cheesecake | Chocolate Truffle Cake
Chocolate Peanut Butter Surprise Brownies
You can also find me hanging out here:
Pinterest | Facebook | Twitter | Google+
https://betweennapsontheporch.net/