TGIF! Kyla is here from House Of Hipsters to help you celebrate Fri-yay and she has a fabulous Bring on the Weekend (free) printable for all of you…. Enjoy! xo
One of my most absolute favorite things to make for my readers are free printables. Being a graphic designer by trade, they are, for lack of a better word, playtime for me to create and design. They give me freedom to break out of my branded advertising world.
Todays printable was inspired by my iPod. While driving home from the gym, "Weekend" by Class Actress was playing. Of course I'm belting it out like a contestant on The Voice, windows down, channelling Christina Aguilera. Needless to say, it was stuck in my head all day long. I thought it would be a great printable to post over here at Live Laugh Rowe.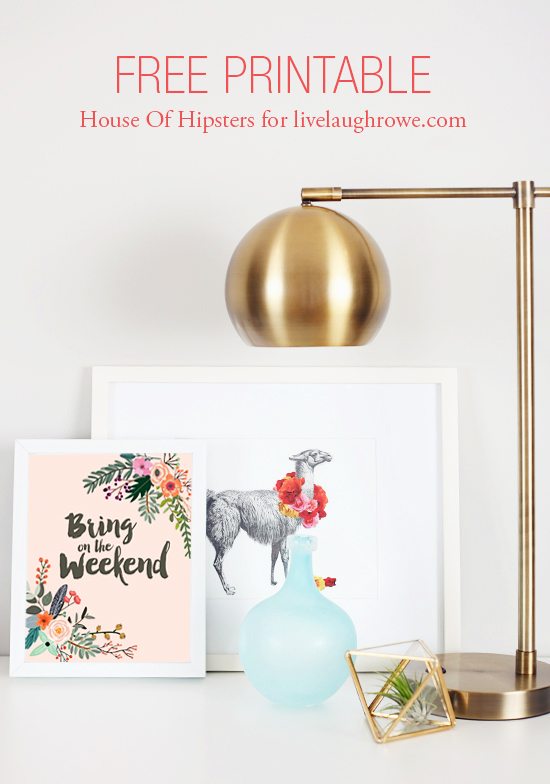 I'm a terribly huge fan of Rifle Paper Co. and lately have been playing with different types of graphic florals. Blush has been huge in my life. Like HUGE! So huge that my master bedroom makeover is primarily navy and blush with hits of hot pinks. So really everything in this printable has been super inspiring for me. In fact, now that I'm typing this, I think I have just the spot for this crazy cute print.
I N S T R U C T I O N S
I've tried to make the printing process ridiculously easy. So here goes:
1. Download your Bring on the Weekend free printable PDF. Right-click on the link, and click "Save As" if your download doesn't automatically start.
2. Burn the free printable file to a CD or copy to a jump drive.
3. Take it to your favorite copy and print shop. I've also printed mine through Shutterfly.
4. Print true to size on an 8-1/2″ X 11″ sheet of paper (heavier card stock would be preferred). The file size is 8″ X 10″, but you can ask them to size it to an 4″ X 6″ or 5″ X 7″. If you are using Shutterfly, size accordingly.
5. Go home, get out your ruler and X-ACTO knife. Trim.
6. Grab a coffee, Diet Coke or a Wild Indie Mule (I like to give options), hang and admire.
So, I'm always dying to know where are you hang your free printables? Do they get tacked to a bulletin board? Hung in the mud room? Bedroom? Living room? Office? Give me a sneak peek. I'd love to see! Style it pretty, Instagram and tag it with #HOHinmyhome and #foundforaged. You stand a good chance of getting featured. You can find me on Instagram. (or just search @kdall070) …I know, I know. I really have to change that handle. One of these days.
If you like this free printable, you might like my others. You can download them here: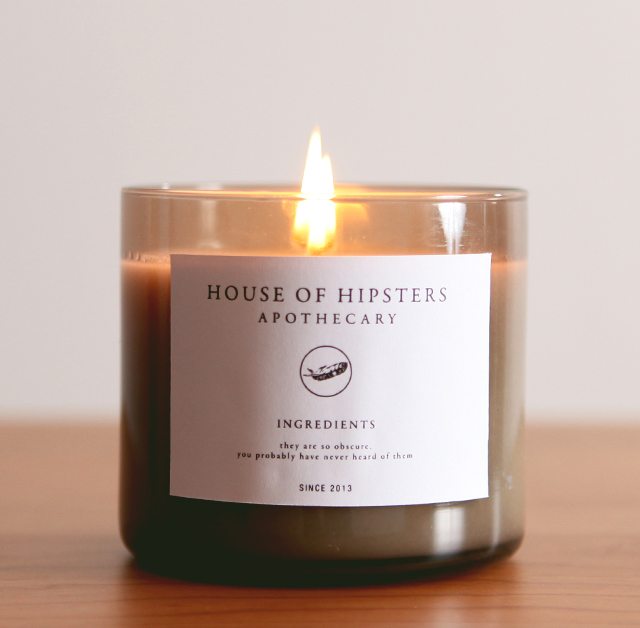 Candle Makeover Labels Free Printable
So what do you say? Bring on the weekend!
You can also find me hanging out here:
Facebook | Pinterest | Twitter | Google + | Instagram
Linking up at Between Naps on the Front Porch